Greer's Daily Dose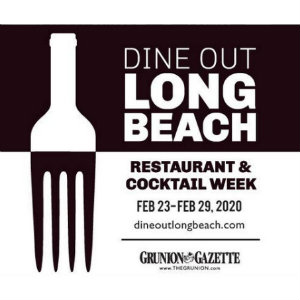 The 5th annual Dine Out Long Beach, Restaurant & Cocktail Week
02.19.20
SoCal foodies can meet, eat and repeat then one, two, three, pour during the 5th annual Dine Out Long Beach, Restaurant & Cocktail Week taking place February 23-29.
Dine Out Long Beach, Restaurant & Cocktail Week is a seven-day celebration of dining founded by Elizabeth Borsting, president of Elizabeth Borsting Public Relations Inc., which represents several dining and hospitality concepts.
Diners can enjoy two-selection brunches and lunches starting at $10 and/or three-selection dinners starting at $20. Beer, wine and cocktail pairings with small plates will also be offered at various restaurants and wine bars. There are no tickets to purchase or passes required as guests experience the restaurants--and their settings--first-hand.
Dine Out Long Beach showcases some of Long Beach's best restaurants from across the city – from casual to fine dining. Participating restaurants to date include:
Chianina Steakhouse
Aji Peruvian
Open Sesame
L'Opera
Q Smokehouse
Rasselbock German Kitchen + Beer Garden
ROE Seafood
VUE Bar + Restaurant
District Wine
Michael's On Naples
123 Pho
Café Sevilla
The Crooked Duck
Michael's Downtown
The Pan
E.J.'s Pub Bixby Knolls
Naples Rib Co.
Michael's Pizzeria
Kihon Sushi + Japanese Tapas
Buono's Pizzeria
Claire's at the Museum
The Ordinarie
Salud Juice
Long Beach Tap House
Navy Proof at The Westin
908 Restaurant at LBX
Plancha Latin Kitchen
The Stave
James Republic
The Plunge
Scholb Brewery
Hi-Lo Liquor
London Boat Rental
King's Fish House
Fuego at The Maya
Remix at LBX
Bo-Beau Kitchen + Roof Tap
Arize Bistro
Flamin' Curry
Utopia
Queen Mary​ ​Sir Winston's
Promenade Café
Hi-Lo Liquor
Chelsea Chowder House
Ammatoli
Belmont Brewing Co.
Modica's Deli
Fuego at Hotel Maya
Hungry Angelina
Milana's New York Pizzeria
Tantalum
Borsting added that while several restaurants from previous years shuttered their doors in 2019, she's excited about the new crop of restaurants that opened recently and who are participating in Dine Out Long Beach, including 908 Restaurant and Remix, both located at LBX, along with Hi-Lo Liquor, a new upscale wine and beer bar located on the ground floor of The Current in downtown, and Navy Proof at The Westin.
Dine Out Long Beach is the one time of year when the entire dining community comes together to showcase the best of Long Beach's culinary offerings, from chef-made sushi at Kihon Sushi + Japanese Tapas on Naples Island to "Dine and Duffy" with London Boat Rentals, which offers self-navigated Duffy boat excursions through the canals of Naples.
---
More Daily Doses