Greer's Daily Dose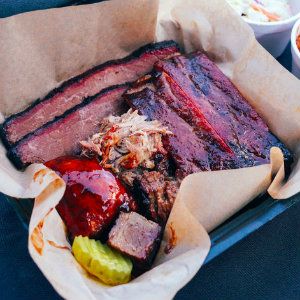 The Best Competitive BBQ in OC
07.30.18
Love BBQ like no one other? You're going to want to taste the Q Joint, right in front of Calligaris at SOCO Farmer's Market in Costa Mesa. Here's the catch, the Q Joint is a BBQ booth that's only there Saturdays from 9 a.m. to 2 p.m. Founded by award-winning "Certified BBQ Judge of the Year" for the State of California, Benny Chang, the Q Joint will surprise you in that it's not Kansas City, Texas, Memphis or Carolina style, but influenced by competition BBQ.
Chang spent a decade learning the craft of grilling and BBQ long before he entered the world of competitive BBQ. After becoming immersed in the community, he soon absorbed the techniques and secrets from the country's top BBQ teams to master his craft. While not at Q Joint, he's also a member of the Kansas City BBQ Society, a Master BBQ Judge, and instructor at the California BBQ's Association.
At Q Joint, you can taste the same BBQ that otherwise would be reserved for certified judges.
For each serving of meat, there were hours spent prepping and hours spent smoking meats in special wood – California Red Oak for Chicken, Apple Wood for St. Louis Ribs, Hickory Wood for Pulled Pork and Beef Brisket.
The Chicken is braised in a butter bath and rubbed in signature spices. Slow smoked for two hours and finished with sauce to create a multi-layered flavor profile.
The St. Louis Ribs are given a competition trim before applying their pork rub and smoked for five hours to create tender and savory ribs.
Pulled Pork is infused with secret marinade for 24 hours before rubbed and smoked for another 12 hours. It's melt-in-your mouth meat.
Chang considers Beef Brisket to be the crème de la crème of BBQ and the hardest to cook right. Painstaking efforts are taken in trimming this hunk of meat and seasoned with the beef rub to enhance brisket's natural beef flavor. The brisket's burnt ends is a tender BBQ delicacy that melts in your mouth.
The Pulled Pork Sandwich is a juicy pulled pork smoked over Hickory and served with their mayo slaw, sandwiched between Texas toast to create this flavorful BBQ sandwich.
The way to go is to order the Judges Box—that gives you one chicken, two rib bones, pulled pork, two slices of brisket, and two burnt ends. Priced at just $34, it's a great sampling of what the Q Joint offers.
Here's another great tip: Arrive early. The Q Joint sells out and can even run out of some things before 2 p.m.
Open 9 a.m. to 2 p.m. Saturday.

The Q Joint is at SOCO Farmers Market at 3315 Hyland Ave. in Costa Mesa.
---
More Daily Doses