Greer's Daily Dose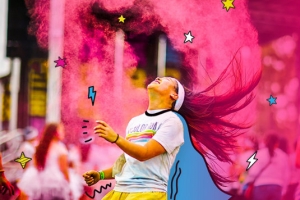 'The Happiest 5k on the Planet' Coming to Huntington Beach
09.25.18
The Color Run, also known as "the Happiest 5k on the Planet," is coming to Huntington Beach on Saturday, Sept. 29 at the Huntington Beach State Park. It's considered the world's largest event series, catering to all skill levels and ages in more than 30 countries. Guests are encouraged to run, walk, dance, or cartwheel their way through the larger-than-life course as they are doused in a rainbow of colored powder.
This race in Huntington Beach also features a Rise of the Teenage Mutant Ninja Turtles super color zone, where runners will race through four different colored powders, representing the four Turtles. Runners can meet costumed characters and show their TMNT spirit at a temporary tattoo station, and more.
The start-line window will open at 9 a.m. with waves going until 9:45 a.m. At The Color Run, the start line is its own pre-race party with music, dancing, warmup stretching and giveaways.
Registration is available here thecolorrun.com/locations/huntington-beach-ca.
Huntington Beach State Park is at 21601 Pacific Coast Highway in Huntington Beach.
---
More Daily Doses