Greer's Daily Dose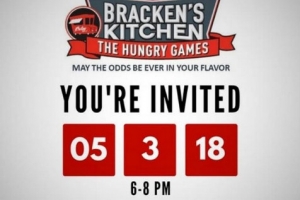 The Hungry Games Top Chefs Competition
04.11.18
LA & SF Specialty present "The Hungry Games' in support of Bracken's Kitchen. Hosted by the Art Institute in Costa Mesa, please join me on Thursday, May 3 from 6 to 8 p.m. for a fun and casual evening of great food and wine in a live kitchen setting. Chef Bill Bracken of Bracken's Kitchen will be joined by several of Southern California's Top Chefs for a casual, "In The Kitchen" reception and friendly culinary competition.
Participating chefs include:
You will enjoy a selection of small bites, appetizers and snacks as well as beer and wine during the friendly culinary competition using a secret ingredient with you acting as the judges. Enjoy desserts in Exhibit Restaurant at the Art Institute of Orange County as they announce the winner of People's Choice for best dish.
While enjoying dessert in the restaurant you can learn more about the mission of Bracken's Kitchen as we announce the "HUNGRY GAMES CHAMPION."
Go to brackenskitchen to purchase your tickets and register for the event!
Limited tickets available, so don't wait. See you there! And, May the Odds Be Ever in Your Flavor!
The Art Institute of California - Orange County is at 3601 West Sunflower Avenue in Santa Ana.
---
More Daily Doses