Greer's Daily Dose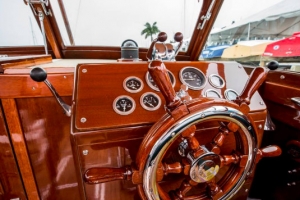 The Newport Beach Wooden Boat Festival
06.09.17
The Newport Beach Wooden Boat Festival will be celebrated on Saturday, June 10 from 10 a.m. until 5 p.m. at the Balboa Yacht Club. More than fifty classic show-ready wooden vessels will be lined up. Stay all day long and enjoy delicious food, libations and live music by the bay.
You can participate in the people's choice voting from the start of the festival up until 3 p.m. And, there will be opportunities throughout the afternoon to set out aboard the 82-foot schooner, Curlew.
All ages are invited to participate in nautical arts and crafts, toy boat building, and the voyage to Discovery Cube's Ocean Quest at the Fun Zone.
The weekend starts with the first ever RyboRendezvous on the West Coast, honoring the "Stradivarius" of sport-fishing boats as the featured marque for 2017. Pat Rybovich, daughter of boat builder and designer Tommy Rybovich, is the featured speaker Saturday at 5:30 p.m. She'll be discussing her family's American company that created the modern sport-fishing yacht in the 1940s. She has documented the rich history in the book: Rybovich: The Stuff of Legend, and also is writing a screenplay.
Take advantage of the free shuttle running from the Newport Beach Country Club to the Balboa Yacht Club. Or, you can use the complimentary water taxi that will be offering rides from docks and resorts around the Harbor. For more information on event details, visit newportbeachwoodenboatfestival.com
Balboa Yacht Club is at 1801 Bayside Drive in Corona Del Mar.
---
More Daily Doses