Greer's Daily Dose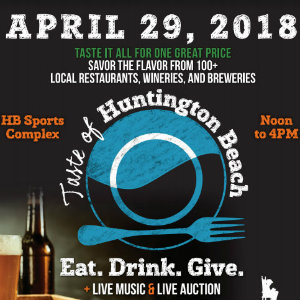 The Taste of Huntington Beach. Eat. Drink. GIve.
04.23.18
The annual Taste of Huntington Beach on Sunday, April 29 at the HB Sports Complex showcases the best of HB's culinary talents and the region's top wineries and breweries. For one all-inclusive price, attendees enjoy unlimited samples and sips from some of the area's finest establishments. All proceeds go to the Children's Department of the HB Public Library. The event runs from noon to 4 p.m.– with an exclusive VIP reception from 11 a.m. to noon.
Start the afternoon by enjoying endless delectable samples of culinary delights from your favorite local restaurants. Add in unlimited sips from your favorite wineries and breweries, along with live entertainment by The Ramsey Brothers Band for your listening and dancing enjoyment – and you have the perfect mix for a great day of food, fun, and friends! The silent auction at the Taste of HB features decorative baskets filled with goods and services from businesses throughout Orange County.
This year's celebrity guest is Chef Bruno Serato: CNN Hero, philanthropist, author, and owner of the landmark Anaheim White House. He will be the featured guest at the VIP reception, meeting with guests and signing copies of his new book, The Power of Pasta: A Celebrity Chef's Mission to Feed America's Hungry Children.
Serato, a longtime resident of Huntington Beach, is recognized internationally for his work feeding underprivileged children. He and his mother Caterina co-founded Caterina's Club, an award-winning nonprofit that provides warm meals, affordable housing assistance, and job training to homeless and low-income families throughout Southern California. Through Caterina's Club, Serato feeds more than 3,500 children daily. He feeds children's hungry bodies, while the mission at the Friends of the Children's Library is to feed their minds.
For tickets to the 2018 Taste of Huntington Beach on Sunday, April 29, visit TasteHB.com
HB Sports Complex is at 18100 Goldenwest in Huntington Beach.
---
More Daily Doses