Greer's Daily Dose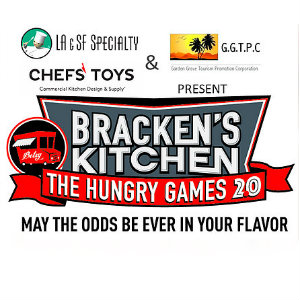 The Tastiest Event of The Year "The Hungry Games 2.0"
08.13.19
One of the best and tastiest events of the year, Bracken's Kitchen "The Hungry Games 2.0" is the second in a series of events to benefit the less fortunate in and around Southern California.
On Thursday, September 19, from 6 - 9 p.m. join the Hungry Games 2.0 at Bracken's Kitchen in Garden Grove for a fun and casual evening of great food and wine in a live kitchen setting.
Chef Bill Bracken will be joined by the reigning Hungry Games Champion, Chef Jason Montelibano of Chapter One The Modern Local along with a list of Celebrity Chefs including: Chef Jeffrey Boullt of Social, Costa Mesa; Chef Josiah Citrin of Melisse Restaurant in Santa Monica; Chef Brian Husky of Tackle Box, Costa Mesa; Chef Trevor Kotchek at Sgt. Pepperoni's, Newport Beach; Chef Jerry Babcock of Bracken's Kitchen; Master Baker Dean Kim of OC Baking; Pastry Chef Michael Owens of Left Coast Bakers; Shahira Marei of The Dirty Cookie; and Jason Mercado of Sweet Mission for a casual "In the Kitchen" reception and friendly culinary competition.
Guests will be able to move between the 9,000 sq. ft kitchen while enjoying selections of small bites, appetizers, and snacks. Beer and wine will also be served during the friendly culinary competition, with you, guests, acting as the judges.
You will then enjoy desserts in the "YARD" where you can learn more about Bracken's Kitchen and participate in the silent auction. And, they'll announce the winner of the people's choice and "Hungry Games Champion."
Bracken's Kitchen is at 13941 Nautilus Drive in Garden Grove.

---
More Daily Doses