Greer's Daily Dose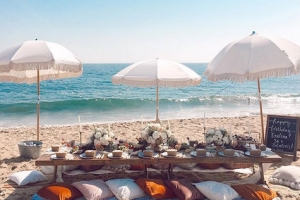 The Ultimate Beach Picnic in OC
09.08.20
The ultimate beach picnic for two to 30 people can be created for you in OC and LA thanks to the Picnic Collective. They'll customize a picnic set-up from bluffs to harbor, gardens to sandy beaches. All of their picnics come with a signature coastal grazer cheese board, a bread box with croissants, and a dessert for each guest.
Each setup also has a styling customization option. You can choose between a bohemian styling, coastal styling, a romantic set-up, or a themed set-up. They can tailor a picnic to fit your special occasion.
Packages to choose from include set up and clean up of picnic, pillows for every picnicker, seasonal florals, rugs for seating, coastal grazing boards, and a sweet treat. They also provide decorative umbrellas, picnic collective styling, Bluetooth speakers, customized chalkboard message, Spindrift sparkling water for every picnicker, string lights, and/or umbrella.
The package also includes options for picnic collective bread, box for each picnicker, farm table upgrade, floral centerpiece arrangements, photography, flower crown add-on, upgraded drinks station, upgraded dessert station, upgraded décor, and private yoga class, and use of everything for two hours.
Choose from T Street Beach (Fire Pits), San Clemente Pines Park, San Clemente Doheny State Beach, Dana Point Corona Del Mar State Beach, Corona Del Mar Orange Street Beach, Newport Beach Back Bay Beach (Fire Pits) - Newport Beach Harbour Patrol Beach - Newport Beach 15 Street Beach - Newport Beach Huntington City Beach (Fire Pits) Bolsa Chica, Huntington Beach, or your custom beach location.
Business hours are available from 10 a.m. to 6 p.m. weekdays. 949.287.6372, or email thepicniccollective@outlook.com.
For more information, visit thepicniccollective.com,
---
More Daily Doses