Greer's Daily Dose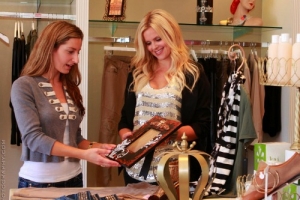 Think Pink and Save!
11.02.10
After a summer closure due to fire damage, Pink Laundry, a contemporary women's boutique, has reopened their Newport Coast location. And in celebration, it's offering Greer's OC readers 15% off everything through Friday (just mention Greer's OC).
Pink Laundry proudly carries an array of must-have brands at varying price points, including Madison Marcus, Elizabeth and James, Ella Moss, BB Dakota, Vince, Geren Ford, and Hudson. It offers something for everyone from casual to dressy wear, accessories, including shoes, jewelry and handbags, as well as a selection of baby and children's items.
The fresh interior boasts a variety of plush, sweet yet chic features including distinctive floral wall coverings, wood floors, hot pink settee, sparkling chandelier, as well as an assortment of exciting new designers.
Open 10 a.m. to 7 p.m. Monday through Friday; 10 a.m. to 6 p.m. Saturday; 11 a.m. to 5 p.m. Sunday. Newport Coast Shopping Center at 21558 Newport Coast Drive, at San Joaquin Hills Road, in Newport Coast. 949.640.2206.
---
More Daily Doses