Greer's Daily Dose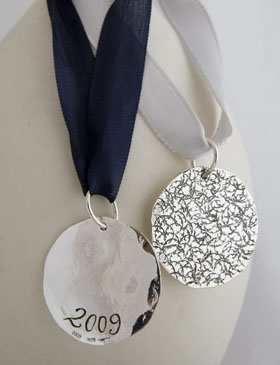 This Time, It's Personal
12.18.09
One of our favorite local jewelry artists, SUZAN, recently added handmade and hand-engraved ornaments that are, in our humble opinion, perfect for holiday gifts. They can be purchased online, or Suzan is inviting children (with their parents) to her studio Saturday from 10 a.m. to 3 p.m. to personalize ornaments by hammering in sentiments, names, etc. (first come, first serve). Choose from hearts, stars, baby's first Christmas, peace sign, blessings and more.
SUZAN's gold and silver jewelry is exquisitely hand crafted, incorporating Tahitian pearls, antique and handmade chains, and ancient beads and coins.
Open 10 a.m. to 4 p.m. Tuesday through Thursday. 1733 Monrovia Ave. Suite U in Costa Mesa. 949.646.6009 or 800.742.6750.
Care about Someone
Witness the brighter side of the holiday season at the final event in the dynamic campaign to raise "40K in 40 Days" for Someone Cares Soup Kitchen Saturday from noon to 4 p.m. (You too, can be a part of it.) Hundreds of volunteers are gathering at Costa Mesa Honda to assemble backpacks, wrap toys and raise much-needed funds to feed 1,200 at Someone Cares Soup Kitchen in Costa Mesa. It serves people from across the county who are in a tough spot for some reason or another—from young children to the elderly and the currently unemployed. The festive event also will include Santa with his sled and elves, raffle tickets for more than $2,000 in prizes, appetizers from renowned catering companies and live entertainment from DJ Johnny Vegas. Costa Mesa Honda is at 2888 Harbor Boulevard in Costa Mesa.
---
More Daily Doses