Greer's Daily Dose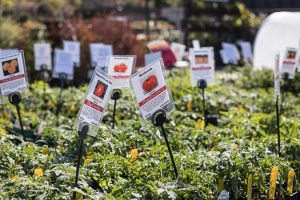 Tomatomania! Is Back at Roger's Gardens
02.24.21
Tomato enthusiasts won't want to miss the world's largest tomato plant sale at Roger's Gardens from Friday, Feb. 26 to Sunday, March 7 from 9 a.m. to 6 p.m. daily. The 9th annual celebration will include an astonishing selection of over 250 varieties of heirloom and hybrid tomato plants, including new varieties for 2021 and a large selection of peppers.
They'll also be introducing the Tomato of the Year, 'Lava Flow', a red striped skin and a pastel blush of yellow, red or pink flesh. This tomato is juicy and contains complex, intriguing, well-balanced, fruity flavors, perfect in salads or as a delicious snack.
You can also connect with other tomato enthusiasts and immerse yourself in live streams that will make you want to learn more about these special plants.
Experts will answer any questions to ensure a successful tomato season.
For more information, visit Tomatomania
2301 San Joaquin Hills Road in Corona del Mar. 949.640.5800.
---
More Daily Doses