Greer's Daily Dose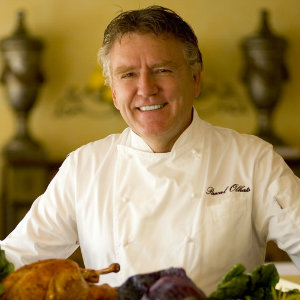 'Tradition Meets Innovation' at Cafe Jardin
08.12.19
It's always wonderful to start a new week with great news: After a hiatus to focus on his health, beloved chef Pascal Olhats is returning to cooking at Café Jardin in the beautiful Sherman Library and Gardens in Corona del Mar. He has decided to make it his top focus.
He'll also be working with an amazing young, up-and-coming top chef, Chef Jessica Roy. "Our culinary paths have crossed at several charity events over the years. While I was looking for a kitchen partner, Chef Jessica expressed her desire not only to work with me but also finds it very appealing to work in such a special and natural environment," says Pascal.
"We have everything that a chef dreams about. Sherman's Gardens is growing an endless variety of fresh herbs, eatable flowers, lettuces, and root vegetables. Also, with my association with Irvine's Manassero Farms, they grow some of the best produce in the world which makes this even better. We pick up fresh produce there about daily!"
Pascal and Jessica share the same feelings on what it takes to make a special dish---the freshness, the texture, local and seasonal ingredients. The only difference is that Pascal is classically-trained with all the knowledge and foundation of French cuisine. And, the flavors of the world from his lengthy culinary journey. She has modern training as she worked under famous chefs and utilizing today's cooking techniques with amazing food pairings.
They have decided to combine their knowledge and passion to execute some of the best food they say you will ever experience. They are calling their cuisine venture: "Tradition meets Innovation."
They are working together to learn about each other's style of cooking and are creating a new menu for fall.
Café Jardin is serving lunch Monday to Friday, Sunday brunch and seasonal Sunday dinners. They will elevate the lunch options so guests can experience a fine dining lunch. There will also be a bistro menu along with a prix fixe fine dining lunch option.
"When I travel, I usually visit a fancy restaurant at lunchtime. This will also give our guests that same chance to enjoy a lovely daytime dining experience--- all in the glorious setting of the gardens."
Special dates:
The new lunch menu, mid-September
New Sunday Fall menu (game and slow cooking dishes), on October 6.
Now serving Seasonal Sunday Brunch, all year long.
Reservations: Café Jardin, 949.673.0033 or on Opentable.
For details and inquiries, you can email pascal@pascalnpb.com
Cafe Jardin is at 2647 E. Coast Highway in Corona del Mar.

---
More Daily Doses