Greer's Daily Dose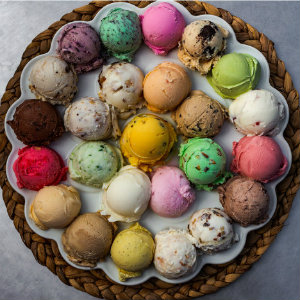 Traditional Persian Ice Cream With A Twist
07.24.19
LA-based Saffron & Rose just opened its first OC location at Campus Plaza in Irvine. Founder Ali Kashani- Rafye started making ice cream in Tehran over 75 years ago where he mastered the art of creating authentic Persian-style ice cream. In the Seventies, he introduced Southern California to exotic flavors such as Saffron & Pistachio ice cream (its signature flavor), and today his family has developed over 30 unique flavors. All organic, made from scratch, no GMOs, no artificial flavors or colorings, just wholesome ingredients and nothing else.
Choose from fruit flavors such as Fig & Cranberry, Tart Cherry, Guava, Cucumber, Daye and Pomegranate. Floral flavors include White Rose, Sugar-Free Saffron, Faloodeh, Poppy Seed Slush, Orange Blossom, Ginger, Jasmine and more. Chocolate and Nutty Flavors include Caramel Crunch, Dark Chocolate, Mint Chip, Saffron & Pistachio and Walnut Raisin.
Open 11 a.m. to 10:30 p.m. Sunday to Thursday; 11 a.m. to 11 p.m. Friday and Saturday.
4523 Campus Drive in Irvine. 949.333.3938
---
More Daily Doses