Greer's Daily Dose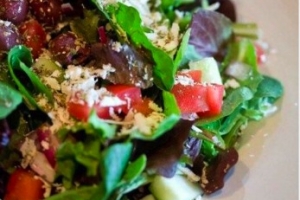 Turkish Delight!
12.08.10
GG's Bistro is a favorite Laguna Beach restaurant serving a combination of authentic Turkish and Italian cuisine. So here's your spot if you're craving some Mediterranean favorites like hummus, borek filled with Feta, Swiss cheese, and sautéed onion rings; spaghetti Bolognese; fresh panini sandwiches served on focaccia or ciabatta; Alexander gyro kebabs; a variety of shish kebabs and even Turkish tea and coffee.
Choose from breakfast items such as French toast, Turkish toast (grilled cheese panini with Kashkaval cheese, with Turkish sausage), Mediterranean plate, and tasty omelets served with hash browns. At lunch, selections include freshly made soups, salads, appetizers, and hot pita sandwiches; and at dinner choose also from fresh seafood entrees, lamb dishes, pastas and much more.
Leave room for dessert. GG's specializes in homemade Baklava, crème brulee cheesecake and tiramisu.
Enjoy live jazz Wednesday evenings 6:30 to 9:30 p.m.; and happy hour 4 to 6: 30 p.m. Monday through Friday. Open 11:30 a.m. to 9 p.m. Monday through Saturday; 9 a.m. to 9 p.m. Sunday. 540 S. Coast Highway, Suite 108 in Laguna Beach. 949.494.9306.
Power Facial!
If you're looking for an incredible facial that uses medical grade SkinCeuticals products, visit Heather at Newport Beach Laser & Plastic Surgery Center. The 50-minute power facial treatment normally costs $175, but through December, it's only $99 if you mention Greer's OC.
It's ideal for a wide range of skin types and specially designed to power boost your skin's own rejuvenating powers.
During the treatment, your skin is exfoliated with medical grade microdermabrasion and treated with alpha and beta hydroxy acids to minimize the appearance of surface lines, smooth out rough skin texture, and produce lightening and brightening effects. Finally, your face is treated with an anti-aging, vitamin-C firming masque to boost skins radiance. Dr. Ackerman's Laser Plastic Surgery Center. Ste 607, 360 San Miguel Drive in Newport Beach. 949.759.3284
---
More Daily Doses