Greer's Daily Dose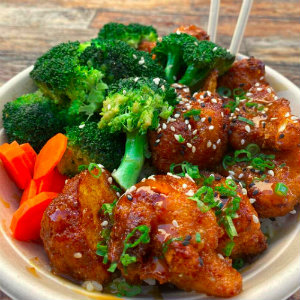 Vegan Food Options Arrive in Santa Ana
02.20.20
For those of you searching for more plant-based eateries in Orange County, you're in luck. Santa Ana's 4th Street Market just opened two new vegan options: Naughty Panda and My Vegan Panda.

Naughty Panda is a 100% plant-based Asian Fusion restaurant between My Vegan Panda and Naughty Boy Sushi. Together they make Naughty Panda. Their menu consists of Asian themed burgers, bowls & rolls, and fries!. They focus on merging Chinese, Japanese, Vietnamese, Cambodian, Thai, and Filipino favorites with fast-casual American fare. The menu includes non-GMO and all-natural, hand-crafted burgers, bowls, and sushi rolls.
Also in 4th St Market, there is another fully vegan business called La Vegana Mexicana, the beauty in it is that they veganized a lot of traditional Mexican dishes without the use of mock meats or soy. You'll want to try some of their famous tamales. They also offer nut-free and FODMAP (garlic and/or onion-free) options. The goal is to create culturally appropriate, plant-based, healthy food that retains the rich and flavorful history, spices, preliminary ingredients, and modes of preparation of Mexico.

4th Street Market also added Sweet Tooth, a new collaboration between two local businesses.
Malinalli Superfoods and Vegan Milkshakes. a new dessert stall also offering a plant-based dining experience. They offer Agua Fresca and Superfood Drinks along with waffles, milkshakes, churros, and assorted gluten-free baked goods!
201 East 4th Street in Santa Ana.

---
More Daily Doses