Greer's Daily Dose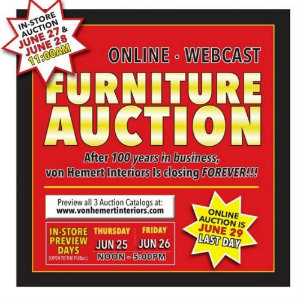 von Hemert Interiors In-Store and Online Furniture Auction June 27 - June 29
06.24.20
After 100 years in business, von Hemert Interiors is closing forever. For three days, starting Saturday, June 27 at 11 a.m. they will be holding a furniture auction, both in-store and a webcast online auction that ends Monday, June 29.
In-Store Preview Days -- open to the public are Thursday, June 25 and Friday, June 26 from noon to 5 p.m.
The In-Store auction takes place at 11 a.m. on Saturday, June 27, and at 11 a.m. on Sunday, June 28. The final Online Auction is Monday, June 29. Preview all three auction catalogs at vonhemertinteriors.com
Cash and credit cards only. Sold only "as is" where is basis, items must be removed within 48 hours notice: A buyer's premium will be in effect for this auction.
1595 Newport Blvd. in Costa Mesa. 949.642.2050.
---
More Daily Doses