Greer's Daily Dose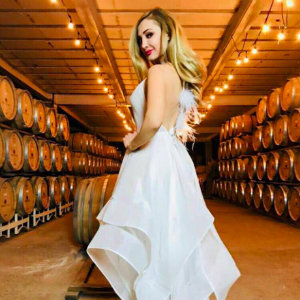 Welcome to Orange County Fashion Week®
03.22.18
The place to see the most exciting local and international fashion leaders, designers, stylists, and brands is OC Fashion Week® March 25 – March 28.
Opening Day features a premiere of Fashion Parade 2018 in front of stunning panoramic city views at Marriott Irvine Spectrum's Hive & Honey Rooftop Bar on Sunday, March 25 at 3 p.m.
At this special preview, you'll see the latest ready-to-wear creations from BGR Designs creator Berenice Gonzales, elegant designer Charmaine Joie Couture and Carmerad Hand-Made collection from girls' wear designer Adina Bidian. Also introducing the Jewelry collections of Australian jeweler Sally Skoufis, Jacqueline Paolo Qua Galang for ShopBexo and Danielle Poe of JAGged Edge Jewelry.
Taking to the modeling runway for the first-time will be the sassy scribes from So Cal Bloggers featuring shirts by Stranger Prints - a precursor to their own event 'Babechella' coming in June. "Our runway team Behind the Seams trained these bloggers as first-time-runway models in preparation for their first fashion show in June this year which we are sponsoring," says OC Fashion Week® president Kathryn Marino. "We are giving the crowds a chance to see what we do to prepare models for all our runways."
Guests will also see The Art Institute of California students compete in a chef's challenge – each creating stylish plates of culinary delights to tantalize the tastebuds and inflame the pages of Instagram. Renowned Food Network Star food stylist and costumer Nico Alvarado will be a guest panelist helping decide who wins the title for dishing up the smartest, most succulent savories.
LOCATION: HIVE & HONEY ROOFTOP BAR TIME: 3 p.m. – 5 p.m.
 ADDRESS: MARRIOTT IRVINE SPECTRUM. EVENT LINK.
3/25 RUNWAY SCHEDULE 3 P.M.
315 P.M.
 SO CAL BLOGGERS
3:25 P.M.
 CARMERAD-HANDMADE
4 P.M.
 ANNOUNCEMENTS
415 P.M. CHARMAINE JOIE COUTURE

430 P.M.
 BGR DESIGNS BERENICE GONZALES
What better way to begin the style, glamour, and seduction of OC Fashion Week® 2018...
Day 1 – Monday 26 March – 4 p.m. to 7 p.m. at Tony & Guy Hairdressing Academy, Costa Mesa
House of Style: Avant-Garde Hair and Makeup – "Fashion Photographers will love this LIVE House of Style fashion photo exhibition. Students and master stylists at the Toni & Guy Hairdressing Academy will demonstrate an array of experimental and futuristic hair and make- up concepts. The 2018 House of Style: Avant-Garde Hair and Makeup exhibition is your backstage pass to witness the radical, unorthodox and high-adrenalin artistry of fashion design in action. Students will work with designers Carolina Hernandez of Veteran Couture, Tijuana's couture designer Llenuel Fro and newcomer hat designer Roxy Lambaren of Blooming Petals. Each will push the boundaries with forward-thinking, eyebrow-raising master-styling at its
best @TonyGuyHairdressingAcademy.
The first 100 Guests receive a special Sephora South Coast Plaza gift bag.
LOCATION: TONI & GUY HAIRDRESSING ACADEMY
TIME: 4 p.m. - 7 p.m. 
ADDRESS: TONI & GUY Hairdressing Academy, 3400 Bristol Street in Costa Mesa. TICKETS > http://bit.ly/2FUKaVr
- OPEN TO THE PUBLIC
Day 2 – Tuesday 27 March – 6 p.m. at Lido Marina Village in Newport Beach.
Cruise Collections – Enjoy a luxury cruise and fashion show aboard the 140-foot-long super yacht Eternity presented by Badgley Mischka. Orange County's premier clothier Dave Welch and Florentine-trained designer who worked five years with Emilio Pucci branches off to launch her collection - Awâsis Pachëco will reveal their 2018 collections along with demonstrations by the finest talents from the Toni & Guy Hairdressing Academy, Sephora and Amazing Lash Studio. The evening highlights a live trunk show with @KUKKAJEWELERY, direct from Spain, @JAGGED_EDGE_JEWELRY and Silviya Neri fine scarves from Italy.
Tickets: $150 – This luxury fashion-on-the-water event includes a two-hour cruise, delicious appetizers, and refreshments.
Departure Time: 6 p.m. SHARP from Lido Marina Village, Newport Beach.
LOCATION: ETERNITY YACHT, ELECTRA CRUISES
TIME: 6 p.m. to 9 p.m.
ADDRESS: LIDO MARINA VILLAGE 3434 Via Lido Newport Beach.
TICKETS: http://bit.ly/2GcJhXr
3/27 RUNWAY SCHEDULE 
7:15 P.M. - Lower Deck - Designer Dave Welch, BSpoke Style 
8 P.M. - Middle Deck - Intermission 8:15 P.M. - Top Deck - Finale - Designer Awâsis Pachëco, Awâsis Pachëco Clothing
Day 3 – Wednesday 28 March – 6 p.m. at Baker Block, Costa Mesa
Trina Turk leads a cast of international designers as OC Fashion Week®welcomes its newest venue partner who is also one of Costa Mesa's most desirable living spaces, Baker Block. @livebakerblock
"We're proud to be an international fashion trade show, located in the luxurious market of Orange County," says OC Fashion Week® executive producer Kathryn Marino. "This market accounts for $37 billion consumer expenditures each year, a world leader when it comes to money spent per capita on fashion. We invite you to see for yourself the designing talents, apparel pieces, styles, and models in our three-runways, four-day fashion week beginning 26 March."
LOCATION: BAKER BLOCK
TIME 6 p.m. – 9 p.m.
 ADDRESS: 125 Baker Street East, Costa Mesa. EVENT LINK http://bit.ly/2pvzBO6

3/28 RUNWAY SCHEDULE
 7:15 p.m.

ADELAFAI by Angie Fontaine

HOUSE OF JIMENEZ by Jonathan Jimenez

26-LINE by Maria Lopez-Schoeman

FASHIONS BY ROHINI - Rohini Bedi

HOUSE OF DAUGHTRY- The Dream Dress by HEATHER DAUGHTRY
Blue Spirit Collection by ANDREA WILSON, U.S. Virgin Islands 8:15 p.m.
COLLECTIONS by TRINA TURK
* new addition ANTHEA CRAWFORD from Sydney, Australia
Reserve your seat for this exclusive preview now! Call: 855.365.0247
 Email: info@OCFASHIONWEEK.com
OC Fashion Week® is presented by Toni & Guy Hairdressing Academy, Toni & Guy Advanced, Toni & Guy USA, Sephora South Coast Plaza, Hive & Honey Rooftop Bar Marriott Irvine Spectrum, Electra Cruises, Amazing Lash Studio Rancho Santa Margarita, Amazing Lash Studio Tustin, Amazing Lash Studio Brea, Amazing Lash Studio CrossRoads, Amazing Lash Studio Costa Mesa, Amazing Lash Studio Bella Terra, Amazing Lash Studio Los Olivos, Baker Block, So Cal Bloggers, ACI Jet, BADGLEY MISCHKA footwear, Stranger Print, Hauteoc, and Betinnis.
---
More Daily Doses