Greer's Daily Dose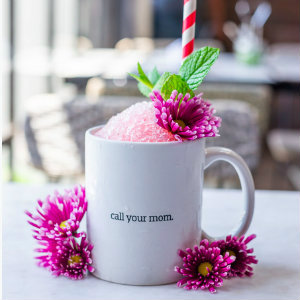 With Gratitude for Mom
05.09.19
Celebrate mom at Gratitude Kitchen & Bar in Newport with a Mother's Day brunch featuring a special, "Call Your Mom," craft cocktail which is served in a souvenir mug with the same sassy sentiment. The cocktail is a refreshing combo of Lillet Rosé, London Dry Gin, Lemon, Raspberries, tonic, and Pyschauds Bitters and garnished with flowers and mint.
And starting Monday, May 13, Gratitude Kitchen & Bar will offer a new Meatless Monday promotion. Guests can get a 50% discount on select menu items each Monday for the next three months. While Gratitude is already committed to serving up the highest quality food with a focus on organic, farm fresh, and locally grown ingredients, the goal of the promotion is to further encourage and educate guests on the benefits of eating a plant-based diet both for personal health and for the environment.
By eating just one plant-based meal per day instead of meat, you could save 2.5 pounds of carbon output, 133 gallons of water, and 24 square feet of land while each day you leave meat off your plate you can reduce your carbon footprint by over 8 pounds. If a family eliminates meat and dairy for one day per week, it would be the same as not driving a car for five weeks.
To kick off Meatless Monday on May 13, Gratitude Kitchen & Bar will showcase the Enthusiastic Fried Chicken Sandwich for lunch and the Elevated Fried Chicken Plate for dinner. Discounted menu items will be updated weekly with the 50% discount is limited to members of the Gratification Program. Those that are not already a member of the Gratification Program can easily sign up at any Love Serve Remember location, free of charge.
Open 8 a.m. to 10 p.m. daily. 7 a.m. to 10 p.m. to-go.
1617 Westcliff Drive, Newport Beach. 949.386.8100.
---
More Daily Doses