Greer's Daily Dose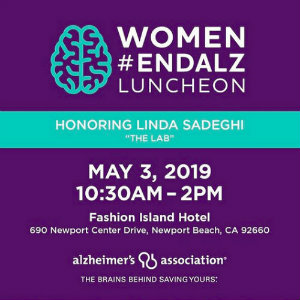 WOMEN #ENDALZ Luncheon
04.16.19
You can make a difference in the lives of those affected by Alzheimer's by attending the inspiring Alzheimer's Association WOMEN #ENDALZ Luncheon on Friday, May 3 from 11:30 a.m. to 2 p.m. at the Fashion Island Hotel in Newport Beach.
At the luncheon, Linda Sadeghi, of The LAB Holding, will be honored with the Alzheimer's Association Community Epicenter Award.
You can also partake in both a live and silent auction, pop-up shops and a Champagne reception. Tickets are still available, here.
The WOMEN #ENDALZ Luncheon is an event-driven by influential women who bring community leaders together to support their mission: to eliminate Alzheimer's disease through the advancement of research; to provide and enhance care and support for all affected and to reduce the risk of dementia through the promotion of brain health.
10:30 a.m. – 12 p.m. Champagne Reception, Silent Auction, and Pop-Up Shops.
12 p.m. – 2 p.m. Luncheon and Program.
For more information, please contact Kenzie Durham, Mass Market Manager at 949.426.8544 or kgdurham@alz.org.
Fashion Island Hotel is at 690 Newport Center Drive in Newport Beach.
---
More Daily Doses