Fashion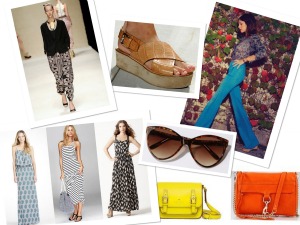 Wear to Where: Spruce Up Your Spring Wardrobe
05.11.11
Printed Pants - Feeling a bit quirky or bold? Forget your solid harem pants or wide leg slacks and go for something with energetic stripes, zippy zigzags and animal prints instead. When donning such dazzling bottoms, make sure to wear simpler pieces up top for maximum contrast. I know, the bold prints might be intimidating at first, but they're seriously worth trying on!
The Flat Platform (aka The Flatform) - A new shoe silhouette has stepped onto the scene, part platform, part wedge, part flat; a marriage of fashion and comfort which might not be for everyone, but its worth a second look. Flatforms can be quite versatile and look fantastic on every woman no matter what height or body type. They're very democratic and with that added comfort it's a shoe you could potentially wear from day to night.
Flare Jeans - Nothing beats the leg-lengthening magic of flared jeans, from high-impact retro bell-bottoms to dramatic stovepipe wide legs, they're a time tested silhouette that is flattering to your waistline by balancing the hips while giving you a long lean look. Pair them with a loose fitting top to make your butt and thighs look skinny!
Maxi Dress - A great versatile addition to any wardrobe that's complementary to any body type. With just a tweak of some accessories they can go from day to evening in a matter of seconds. A definite departure from the classic little black dress, the maxi not only highlights this season's signature 70's style but also crosses over into the various spring fashion trends.
Cat Eye Sunglasses - Far from a standalone trend, the welcomed resurgence of the cat eye sunglasses is rooted in the revival of ladylike 50's and 60's fashion, think Mad Men. Looking to find the purrrfect pair, ladies with square or diamond shaped faces should try ones with rounded out edges and a round face can benefit from sharper edges, or large frames that curve upwards subtly. But rules are never really hard and fast, I suggest trying on pairs until you find what works best for your face shape.
Bold Colored Bags - When it comes to accessories this season it's go bold or go home. Make a statement this spring and amplify any outfits with a pop of color, and the best way to do that is with a little arm candy. Scared of full on color? Choose one with color blocking that includes black and other neutrals or go all out with shades of orange, fuchsia, lime green and yellow.
---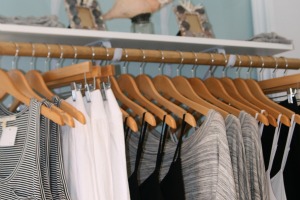 Wear to Where: Taryn Michelle
05.04.11
Nestled on the corner of Pacific Coast Highway and Calliope Street in Laguna Beach, there's a 215 square foot cottage that is anything but little. What first started as a childhood dream will soon become a Laguna Beach institution: Taryn Michelle Boutique is bringing luxury back to the beach with lifestyle basics that will make you comfortable and classy.

As I entered this little gem of a store I was met with the sweet smell of a Makana candle, made locally right up the street. Soft Joie, Langston and T-Los Angeles tops fill her racks which go great with jeans or just as a throw over to a bathing suit.
I loved the flowing linen pants by Krisa for the perfect beach day outfit pair them with a Salt Bikinis and some TKEE Sandals.
If you're looking to add something to your hot summer night lineup, then try on a Susana Monaco dress with a Chan Liu scarf; I would finish the look off with some jewelry by Laguna Beach based company Gorjana.
Don't forget to take a little piece of your day home to share it with that special someone who couldn't make it, nothing says "beach day" like a shell covered picture frame or box. Taryn has made it a point to include some great gift items including wire and bead signs from Kithi Signs. These one of a kind gifts can be customized to say anything that pops in your head; assuring that you can find just the right thing for that difficult person.

I am adding Taryn Michelle Boutique to my list of "Must Visit" stores in Laguna Beach, and I'm sure you will also.
What to Wear | Lanston, Krisa, Soft Joie, Beautiful People, Liam Cashmere, Paige Premium Denim, 360 Cashmere, Susana Monaco, T-Los Angeles, Only Hearts, Velvet, AG Denim, Salt Bikinis

Where to Buy | 1500 South Coast Highway in Laguna Beach. TarynMichelleBoutique.com.
Leslie Christen writes "Wear to Where" for GreersOC.com each week. She is the owner of "LifeStyling" a business that does personal shopping, fashion styling, closet edits and organization. For tips on what to wear and where to buy view her blog at www.LeslieChristen.com and contact her at Style@LeslieChristen.com.
---