Fashion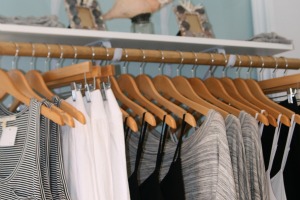 Wear to Where: Taryn Michelle
05.04.11
Nestled on the corner of Pacific Coast Highway and Calliope Street in Laguna Beach, there's a 215 square foot cottage that is anything but little. What first started as a childhood dream will soon become a Laguna Beach institution: Taryn Michelle Boutique is bringing luxury back to the beach with lifestyle basics that will make you comfortable and classy.

As I entered this little gem of a store I was met with the sweet smell of a Makana candle, made locally right up the street. Soft Joie, Langston and T-Los Angeles tops fill her racks which go great with jeans or just as a throw over to a bathing suit.
I loved the flowing linen pants by Krisa for the perfect beach day outfit pair them with a Salt Bikinis and some TKEE Sandals.
If you're looking to add something to your hot summer night lineup, then try on a Susana Monaco dress with a Chan Liu scarf; I would finish the look off with some jewelry by Laguna Beach based company Gorjana.
Don't forget to take a little piece of your day home to share it with that special someone who couldn't make it, nothing says "beach day" like a shell covered picture frame or box. Taryn has made it a point to include some great gift items including wire and bead signs from Kithi Signs. These one of a kind gifts can be customized to say anything that pops in your head; assuring that you can find just the right thing for that difficult person.

I am adding Taryn Michelle Boutique to my list of "Must Visit" stores in Laguna Beach, and I'm sure you will also.
What to Wear | Lanston, Krisa, Soft Joie, Beautiful People, Liam Cashmere, Paige Premium Denim, 360 Cashmere, Susana Monaco, T-Los Angeles, Only Hearts, Velvet, AG Denim, Salt Bikinis

Where to Buy | 1500 South Coast Highway in Laguna Beach. TarynMichelleBoutique.com.
Leslie Christen writes "Wear to Where" for GreersOC.com each week. She is the owner of "LifeStyling" a business that does personal shopping, fashion styling, closet edits and organization. For tips on what to wear and where to buy view her blog at www.LeslieChristen.com and contact her at Style@LeslieChristen.com.
---