Greer's Blog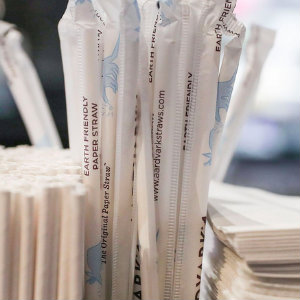 09.20.18
Starting today, plastic straws are out at Honda Center. Recyclable paper straws will be available upon request replacing single-use plastic drinking and cocktail straws, and a limited number of plastic straws will remain available upon request for those with special needs.
"At Honda Center, we continually look for ways to be more environmentally friendly. This is a small step that we ask our guests to take with us to advance the long-term sustainability goals of the arena. By making the switch, we will replace an annual average of over 750,000 plastic straws," said Honda Center President/CEO and Anaheim Ducks VP/COO Tim Ryan.
The switch to paper straws is just the next step in sustainability efforts for Honda Center and the Anaheim Ducks. In 2013, Honda Center and Bloom Energy partnered to offset two million pounds of CO2 annually and generate power through a clean and efficient electrochemical process providing 80% of the venue's base load power and 25% during an event. Honda Center currently utilizes compostable plates, trays, bowls, napkins (also recycled), forks, knives and spoons throughout concessions, in-seat, suite and a majority of catering operations.
The Anaheim Ducks and Honda Center were among the first NHL teams/arenas to join the NHL's Gallons for Goals program, which raises consciousness about water scarcity issues and encourages water conservation by fans, players and employees. As part of that program, the Anaheim Ducks & Honda Center use comparative metrics gathered from arenas across North America to identify areas and practices that lessen water usage. The Anaheim Ducks also host their annual Eco-Challenge that highlights their sustainability program and encourages community conservation. Last year, more than seven tons of e-waste and used goods were collected, and 16,000 pounds of paper was collected to be recycled at the event.
Honda Center plans to responsibly dispose of the single-use plastic straws currently in inventory by donating to local charitable organizations.
(Photo: Jenna Watson/IndyStar)
---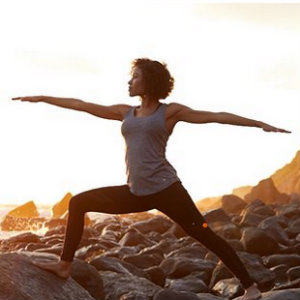 09.20.18
It's National Yoga Month and The Miraval Life in Balance Spa at Monarch Beach Resort in Dana Point is celebrating with a variety of different classes for any level of Yogi.
Choices of signature classes include:
Full Moon Yoga - An evening of outdoor meditation and candle-lit gentle yoga to live music under the soft glow of the full moon.
Aerial Yoga - Breathe, flow, and fly in this exciting new yoga practice that improves overall health and physical agility, lengthens muscles, and releases tension throughout your entire body.
Boga Board Yoga - Float your practice onto the water in this vinyasa practice aboard BOGA YOGA mats tethered in the pool. Increase your stability and balance while engaging your core in a SUP Board-like yoga experience.
Classes are offered Monday-Sunday and are complimentary with the exception of Aerial for resort guests. To learn more, visit monarchbeachresort.com.
1 Monarch Beach Resort North in Dana Point.
---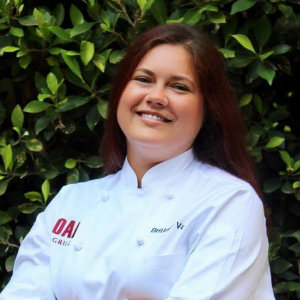 09.19.18
Huntington Beach native Brittany Valles has been named executive chef at Oak Grill and Aqua Lounge – two unique dining and lounge venues at the Fashion Island Hotel in Newport Beach.
At Oak Grill, Valles will oversee the seasonal menus served at breakfast, lunch, and dinner, including menus for holidays and special events. At Aqua Lounge, she is responsible for creating the shareable bites menu enjoyed at this chic and vibrant after-work and night-time gathering spot also known for its outstanding crafted cocktails, wines, and beers.
When it comes to contemporary cooking, Valles says she likes to use local, seasonal products and, whenever possible, utilize the whole plant or animal for her dishes. Her favorite three ingredients are beets, cabbage and peas, and she looks forward to using these and other California ingredients straight from the farm or ocean to deliver bright, bold flavors to the dishes at Oak Grill and Aqua Lounge.
For the last seven years in West Hollywood, Valles served as chef de cuisine at now-closed ink.well by Michael Voltaggio, the sixth season winner of Bravo's Top Chef. Voltaggio is Valles cooking and personal mentor, along with her early teacher Chef Cole Dickenson, who recognized her potential when she worked with him at Wolfgang Puck Catering at the beginning of her culinary career. She also was chef de partie for one year at former Lugatti's Italian Grill in Huntington Beach.
Valles gained a prestigious nomination for Star Chefs' Rising Star Chef in 2017 and was the "Sandwich Queen" in an episode on munchies on Chef's Night Out, along with Chef Michael Voltaggio. She earned an Associate of Arts degree from Le Cordon Bleu College of Culinary Arts in Los Angeles, Pasadena campus in 2010.
Oak Grill and Aqua Lounge are located across the street from Fashion Island inside Fashion Island Hotel Newport Beach and are easily accessible through a pedestrian entrance along Newport Center Drive, along with complimentary valet available at the hotel entrance.
Reservations for Oak Grill can be made by calling 949.760.4920 or visiting oakgrillnb.com and for Aqua Lounge by calling 949.760.4342 or visiting aqualoungenb.com.
---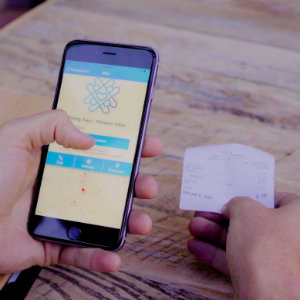 09.19.18
When Donna Janes pays her dry cleaning bill, she triggers a donation to her grandson's school simply by taking a quick photo of her paid receipt. Ditto the local Costa Mesa pizza place. How does she do it?
"It's a no-brainer," said Janes, a Newport Beach grandmother of 18.
Janes uses the Communities for Cause App on her phone to automatically make a portion of her everyday transactions go directly to the non-profit cause of her choice.
How does it work? It's as simple as opening the CFC App on her phone and finding a registered merchant in her area. Her merchant, Bayside Cleaners, donates a percentage of her purchase to Ensign Intermediate School. Bayside keeps a valued customer and attracts new business as word of its philanthropic mission spreads. Janes gets personal satisfaction out of helping the school, which reaps the benefits of much-needed dollars. On the CFC App, which shows all businesses in her area, Janes is also able to vote for ones that she would like to see participate in the program.
This focus on the daily habits and desires of the supporters or CFC App users, combined with the causes they care about the most, allows the intersection with local businesses, the actual donors, who want to participate in the heartbeat of their communities and also expand their customer base, said Robert Davis, CEO of the year-old Communities for Cause. "All the participations enjoy the opportunity of working together for a greater good." With the tap of a finger the CFC App is a vehicle for whole communities to join forces in helping non-profits as diverse as PTAs, school soccer teams and dance and music programs to national organizations as diverse as Habitat for Humanity, Boys and Girls Clubs and the American Red Cross, he added.
The CFC App, based in Tustin, is poised to launch nationwide next year to 3.8 million US retailers, 1.2 million schools and other non-profits and the tens of millions of people who support them both.
---
More Greer