Greer's Blog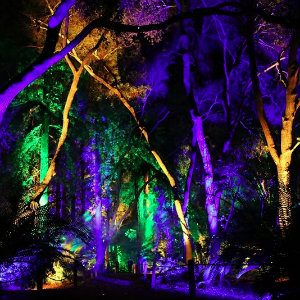 11.16.18
This holiday season, experience the beauty of Enchanted: Forest of Light at Descanso Gardens November 18 through January 6. You can see thousands of twinkling tulips at Flower Power, spinning polyhedrons at Celestial Shadows by HYBYCOZO, and trees aglow in technicolor light in the Ancient Forest.
Enchanted: Forest of Light runs daily from 5:30 to 10 p.m. Enchanted: Forest of Light is closed on November 22 (Thanksgiving), December 24 (Christmas Eve), and December 25 (Christmas Day). Tickets are non-refundable.
Enchanted: Forest of Light is a rain or shine event.
Tickets have timed entry and must be purchased in advance.
Tickets to Enchanted: Forest of Light must be purchased online in advance. Choose between three types of Enchanted tickets on sale now:
Enchanted: Forest of Light tickets These tickets include entry into Enchanted: Forest of Light. Tickets range from $28-$30. Descanso Gardens members pay $23-$28.
Descanso Gardens is at 1418 Descanso Drive in La Canada Flintridge.
---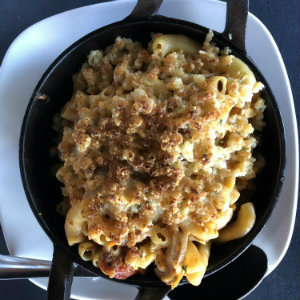 11.15.18
One the heels of last month's San Diego Mac n Cheese Fest, STACKED: Food Well Built collaborated with Chef Bill Bracken for an incredible recipe that won the hearts and stomachs of this year's mac n cheese lovers. Now, all six STACKED locations are adding Chef Bracken's Southwest Chorizo Mac n Cheese to its menu for a limited time only, with a portion of the proceeds going to support Bracken's Kitchen which feeds those in need.
The mouthwatering Southwest Chorizo Mac n Cheese uses STACKED's fan-favorite cheese sauce, tasty chorizo, goat cheese, caramelized onions, delicious herb roasted tomatoes, and mushrooms.
For each order of the delicious Mac n Cheese, three people in need will receive a healthy and tasty meal.
Stacked has six locations and one in Orange County in Huntington Beach.
7490 Edinger Ave. in Huntington Beach. 657.845.2100
3525 W. Carson St. in Torrance. 310.542.5068.
446 W. Hillcrest Drive in Thousands Oaks.
7007 Friars Rd. in San Diego.
18425 Gridley Rd. in Cerritos.
---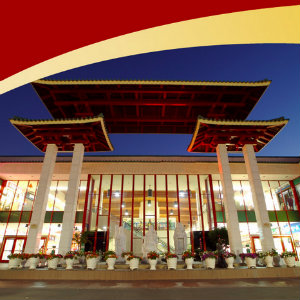 11.15.18
Learn more about historic points at Little Saigon and even paint, visit centers and a museum, and celebrate the New Year! The Orange County Museum of Art (OCMA) will offer six unique field trips to Little Saigon led by artist Alan Nakagawa. Nakagawa is one of six artists featured in the opening season of OCMA's new temporary space at South Coast Plaza Village, OCMAEXPAND-SANTA ANA.
Nakagawa is interested in exploring how we visit and experience cultures and communities to which we do not belong. The following questions guide Nakagawa in this endeavor: As an outsider, what are the opportunities to learn about this community? How do outsiders visit a community they know little about? Should they visit, and why or why not? Is there a correct approach to this kind of exploration?
Field Trip #1: Little Saigon Plein Air Session One*
Asian Garden Mall
9200 Bolsa Avenue, Westminster.
10 a.m. Saturday, November 17.
The Asian Garden Mall is the largest majority Vietnamese-owned- and operated mall in America and a one-of-a-kind shopping experience. You'll capture the vibrancy of this amazing place by sketching and painting what we see.
Field Trip #2: Little Saigon Plein Air Session Two*
NGUOI VIET Daily News
14771 Moran St. in Westminster.
11 a.m. Saturday, December 1.
Walk with down Little Saigon's media row and talk about the importance of the written word and media in the community.

Field Trip #3: The Institute of Vietnamese Studies (Vien Viet-Hoc)
15355 Brookhurst St, Suite 222, in Westminster.
11 a.m. Saturday, December 15.
Visit one of the centers of academic study of Vietnamese culture. There is much to learn.

Field Trip #4: Museum of History Republic of Vietnam
Armed Forces
9842 Bolsa Avenue at 2nd Floor Westminster.
10 a.m. Saturday, January 19
A visit to a unique museum of memorabilia and documentation celebrating the South Vietnamese Military. Meet the staff who are keeping alive the stories of valor for generations to come.

Field Trip #5: TET FESTIVAL
Orange County Fairground
88 Fair Drive, Costa Mesa, CA 92626
10 a.m. Saturday, February 9.
Meet just right of the main gate. It's the Year of the Pig. Celebrate the Vietnamese New Year together!
Field Trip #6: Little Saigon Plein Air Session Three*
Chua Dieu Ngu Buddhist Temple
14472 Chestnut St, Westminster, CA 92683
10 a.m. Saturday, March 2.
Visit this beautiful place of prayer in the heart of Little Saigon and document it through sketching and painting.
*OCMA will provide basic art supplies, but if you like, bring your own and let's draw and paint scenes from inside these unique spaces. We highly recommend you also bring water, a folding chair, and sunscreen. Afterward, you can share what you created.
All are welcome. Please RSVP to info@ocma.net.
---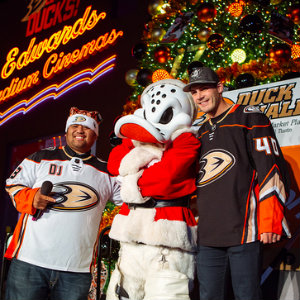 11.14.18
Duck The Halls returns to The Market Place this holiday season! First up is the Anaheim Ducks Watch Party on Wednesday, November 14. Arrive early to stake your viewing spot and kick off the holiday season with a spectacular tree lighting, fun activities, giveaways, and a special guest appearance. Doors open at 4 p.m.
Join the festivities at 6 p.m. as they turn on the Anaheim Ducks-themed tree with the help of Wild Wing, The Power Players and a special guest (stay tuned for who this will be).
Bring the family to watch the Anaheim Ducks take on the Vegas Golden Knights live on a giant LED screen outside at Edwards Courtyard at 7:30 pm. (Irvine side of The Market Place). Enjoy FREE gourmet popcorn, cotton candy and bottled water during the game!
Plus, check-in with The Market Place Street Team during the event to enter for a chance to win the Ultimate Fan Package.*
Edwards Theater Courtyard, The Market Place is at 13782 Jamboree Road.in Irvine.
---
More Greer