Greer's Blog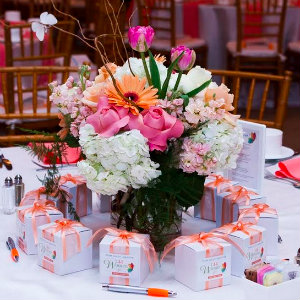 05.29.20
Join 44 Women for Orangewood – a unique group of women dedicated to helping Orange County's foster and community youth – at the 16th Annual Scholarship Luncheon benefitting Orangewood Foundation on Friday, June 5. This innovative, virtual luncheon – which includes a gourmet lunch and fresh flowers delivered straight to your door – is definitely one you won't want to miss.
Although guests will be tuning in from the safety and comfort of their homes, this event will be unlike any other you've seen or heard this year. The 16th Annual Scholarship Luncheon, happening from 12 p.m. to 1 p.m., will be led by committee co-chairs Kimberly Kirksey and Mary VandeBossche with special guest speaker, Celebrity chef Devin Alexander. Chef Devin is a New York Times Bestselling Author of numerous books, and an award-winning entrepreneur best known as the Chef on NBC's Biggest Loser. During the event, she'll share her own personal connection to the cause and talk about healthy meal prep during an exclusive Q&A.
Attendees will also have a chance to enjoy ultramodern features during the virtual luncheon, such as bidding during a live fund-a-need, a series of Opportunity Drawings with chances to win various gifts and packages, and special "breakout rooms" via Zoom where guests will have moments to chat with their neighbors (other guests) who are seated at their "table." Ticket sales for the Opportunity Drawing will begin on Friday, May 29 and remain open until June 4, the evening before the event. Below is a list of just a few items that guests can expect:
4 tickets to Anaheim Ducks games (when the season returns), plus an autographed jersey and hockey stick. ($1,000 value)
A Duffy Boat cruise through Newport Harbor for up to 8 guests with appetizers, dinner, desserts, and drinks provided. ($1,000 value)
Pit Boss Pro Series 820 Wood Pellet Grill, built with superior craftsmanship to easily sear, smoke, BBQ, roast, char-grill, braise, bake, and/or grill all in one. ($650 value)
Two home office packages – both including a height-adjustable desk, filing organizer(s), office chair, and delivery + home/office installation. ($3,830 value)
Italian Dinner at Home – a basket full of goodies + wine from Bristol Farms so you can make your own Italian dinner at home. ($600 value)
Dine IN with one week's worth of meals – including 5 breakfast and 10 lunch/dinner from 24 Carrots, or Dine OUT with a $200 gift card to The Capital Grille. ($400 value)
Family-Fun Quarantine Basket – including a pair of Beats Solo HD headphones, a Kindle Fire HD 8, movies, and several board games including Pictionary Air, The Game of Life, Monopoly, Hedbanz, Jenga, and Clue. ($500 value)
Tickets are available for purchase online now. Ticket options include:
Individual Tickets: $100
Additional Meals: $50 (in case you'd like to include an extra meal for your housemate)
Breakout Room Tickets: $1,000 (10 included)
For information on additional sponsor packages, please click

here

Each ticket includes one (1) gourmet meal delivered to your door in the days leading up to the event. Guests have the option to select one of the below two meals:
Regular Option: Chimichurri Chicken Breast with Herb Roasted Red Potatoes & Steamed Broccoli (Gluten-Free, Dairy-Free, Nut-Free)
Veggie Option: Citrus Salad with Citrus Vinaigrette (Gluten-Free, Dairy-Free)
For questions, or to request additional information about this event, please contact Special Events Coordinator, Ashley Cordero, at acordero@orangewoodfoundation.org or (714) 619-0209.
Get Connected Early During the Cocktails & Connectivity Pre-Event
On Thursday, June 4, (the evening before the event), Orangewood Foundation will host a free drop-in event - "Cocktails & Connectivity" - via Zoom. Guests are invited to join this fun pre-event to test out their video connection prior to the luncheon and enjoy a cocktail with the event committee as well as other guests. If you're not able to join, see below for more information on using the Zoom platform.
Joining Via Zoom: What You Need To Know
Your Zoom Account
If you already have a Zoom account, login and confirm that your registered email address matches the one you provided on your tickets by clicking here. If you do not have a Zoom account, click here to sign up.
Preparing For The Luncheon
Orangewood Foundation will be using the "Breakout Room" feature to allow guests moments for chatting with neighbors at their "table". To ensure that you are able to participate in Breakout Rooms, you must download and install Zoom onto the device you plan to use. If you cannot download or install Zoom, don't worry! The Main Room will always be available for any guests who are not joining separate Breakout Rooms.
For the best experience, download and install Zoom onto your laptop or device here.
If you do not wish to download Zoom, you can join using your internet browser here.
Each guest will receive an email containing the Zoom Meeting ID and Password before the luncheon.
---
More Greer