Greer's Blog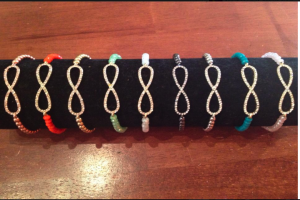 12.19.12
We are beyond grateful for LuLu Too in Eastside Costa Mesa, who are generously donating 20% of sales today and Thursday to Educating Jack & Milly. The fund is helping educate two bright and motivated Kenyans that I met in a rural village in Western Kenya three years ago. I promised to give them a college education, as it was their dream, but an impossible dream due to the expense. (They lived on less than a $1 a day.) Because of generous people in Orange County, Jack and Milly are well on their way to overcome poverty.
They are in their third year of a university education in Nairobi, Kenya, and I need to see that they make it to graduation. You can either shop at Lulu Too and pick up some great stocking stuffers for $20 or less, cozy scarves, socks, candles, bracelets, earrings and necklaces, or make a straight donation at Donate to Jack & Milly http://greersoc.com/about/jack-and-milly.
Thank you in advance for making a difference in the lives of Jack and Milly and happy holidays. We take checks, Visa and MC.
Open 10 a.m. to 6 p.m. Monday through Friday; 10 a.m. to 5 p.m. Saturday; 11 a.m. to 2 p.m. Sunday.

Lulu Too is at 333 E. 17th Street (behind Pancakes R Us) in Costa Mesa.
949.631.5166
---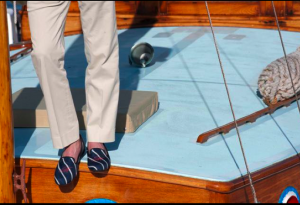 12.18.12
The Matador Alcove, a sophisticated, grown up version of the Little Rascal's "He-Man Women Haters club," but with better hair, décor and refreshments, is a respite for men who want to relax away from the ladies. The men's only full service grooming salon in Costa Mesa also boasts a top shelf bar, and it's owner, David Zimmerman just launched a new shoe line, Bull + Tassel, a classic tux slipper reimagined for the modern gentlemen.

The B + T slipper ($195.00) comes in a nautical inspired Skip (white with powder blue repp stripe and
embroidered white anchor), the fraternity styled Biff (navy with white repp stripe and red embroidered B + t logo) and
the country gentleman's glen (grey, white and red glen plaid pattern). Bull + Tassel is sold exclusively at http://www.bullandtassel.com and at Matador Alcove in Costa Mesa. Open 10 a.m. to 8 p.m. Tuesday through Saturday.
333 E. 17th St., Suite 4 in Costa Mesa. 949.650.0015.
---
12.18.12
Exciting news for families and those affected by autism and other neurodevelopmental disorders. Former PIMCO COO, William Thompson and his wife, Nancy, through their family foundation, along with the Children and Families Commission of Orange County just gave a generous donation of $14.8 million to create a Center for Autism and Neurodevelopmental disorders of Southern California, part of UC Irvine.
There's nothing like it in SoCal, it will be a nationally recognized treatment and research center leading an innovative approach to research and treating a wide spectrum of autism related disorders. The Center will change autism treatment and research through an innovative multidisciplinary approach encompassing clinical trials and care, research, education, awareness, and community support. Chapman University and CHOC Children's will also be involved in The Center for Autism.
---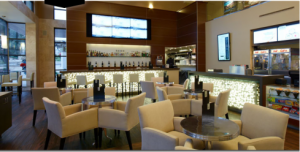 12.17.12
Cinépolis Luxury Cinemas brings its first-class movie-going experience to Rancho Santa Margarita on Friday, making it the second Orange County location after its Laguna Niguel cinema opened last summer. Cinépolis Luxury Cinemas, Latin America's largest movie
theater chain pampers guests in an intimate and comfortable environment. The Cinema at Rancho Santa Margarita Town Center includes six state-of-the-art, digital auditoriums, leather reclining chairs, swivel tables and call service buttons that summon cinema servers to take moviegoers' food and beverage orders during a film. Ticket prices range from $13.50 to $19.50—with a surcharge for 3D films.
Socialize with friends in the lounge-style lobby, bar/restaurant area or outdoor patio dining area beforehand, complete with full dining and bar service. The menu offers delicious choices such as a chopped short rib burger, Cobb salad, spicy buffalo chicken wrap and sushi. Classic movie snacks are available such as popcorn (available in butter, light, caramel and spicy chili), soft drinks, specialty coffee drinks, milkshakes, gourmet finger foods and desserts like Chocolate Godiva Cheesecake.
Open 11 a.m. to midnight. Cinépolis Luxury Cinemas Rancho Santa Margarita Town Center is at 30682 Santa Margarita Parkway. Cinépolis is also at 2401 Golden Lantern in Laguna Niguel. 949.487.1900.
Tickets can be purchased online or inside the Cinema at the Concierge desk.
---
More Greer