Greer's Blog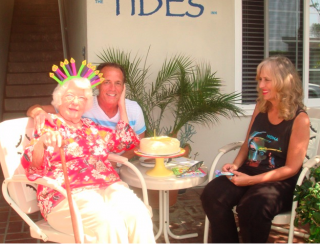 07.05.10
Here's a screaming deal that you need to know about. The Tides in Laguna Beach, a great spot and a fantastic value for families, couples, and business travelers is offering a birthday treat through June 2011! The last two digits of your birth year is your rate on your birthday. A two-night minimum stay is required; standard rates apply on additional room nights. Here's how it works: if you were born in 1969, your rate will be $69 on your birthday night. My favorite is the guest who got a room night for $12 on her 98th birthday from her daughter (pictured above).
The special is for one night only, and you must stay on your actual birthday. Guests must be at least 18 and show ID. Offer expires on June 30, 2011.
Here's the scoop on The Tides: It's a completely refurbished 21-room hotel with a comfortable, homey setting in picturesque Laguna Beach. Amenities include a large outdoor patio with a heated saltwater pool, wood-burning fireplace and gas grill, plus free use of beach items such as chairs, towels, and boogie boards. Dogs are welcome for $25 per night, which includes a cozy pet blanket and chewy treat. Ten of the rooms at The Tides have well-furnished kitchenettes. All rooms are non-smoking.
460 N. Coast Highway in Laguna Beach. 1.888.777.2107 or www.tideslaguna.com.
---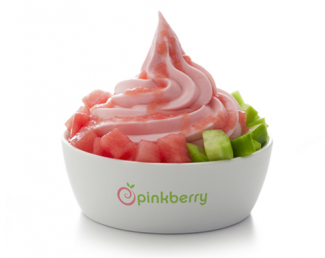 06.29.10
Pinkberry is now offering a new limited-time summer flavor: watermelon. And stop by Pinkberry's special Watermelon Happy Hour daily, from 5 to 7 p.m. and you will receive 50% off any size serving of watermelon Pinkberry, including swirls and side by sides. Pinkberry is OC at Fashion Island in Newport Beach, Bella Terra in Huntington Beach, The Irvine Spectrum, Santa Ana, Tustin and Fullerton. For the nearest OC Pinkberry, check here.
---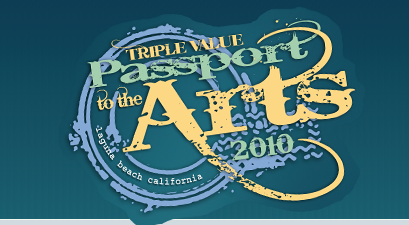 06.27.10
Laguna Beach's world-renowned outdoor summer art festivals— The Festival of Arts, Sawdust Art Festival and Art-A-Fair —are offering a passport that allows unlimited admission to all three festivals for the entire season.
You can purchase a triple value Passport to the Arts just $19 (a $36 value, which includes a one-time all-day free parking with each ticket). That's one pass and three art festivals all summer long!
The festivals feature more than 500 artists, 300 hands-on workshops, 200 musical performances, dozens of special events, and an array of restaurants and other food purveyors.
Additionally, selected retailers and merchants throughout Laguna Beach are offering special discounts to Passport holders. Whether you're planning a day trip, weekend escape, or extended stay, the art festivals are a must-see!
The Festival of Arts: July 5 through Aug. 31.
Sawdust Art Festival: June 25 through Aug. 29.
Art-A-Fair: June 25 through Aug. 29.
The Laguna Beach Passport to the Arts can be purchased at www.LagunaBeachPassport.com or by calling 949.497.0521.
---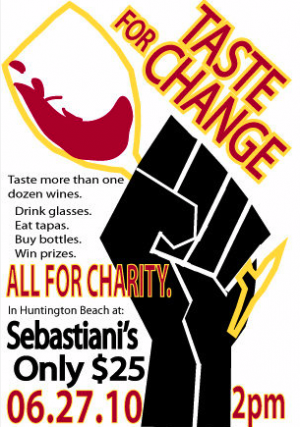 06.23.10
David McKinley's affair with wine began when he was growing up in Canada's greatest wine growing region, the Okanogan Valley. He first sunk his feet into a barrel of grapes at the young age of six.
When he turned 21, he immediately began work within the wine industry. However, in comparison to his new nonprofit, Taste for Change, wine seems largely unimportant to David. Around the same time that he was harvesting the sloped Okanogan vineyards, David lost his younger brother, Daniel, due to complications from Down syndrome.
"He was just the most beautiful child," McKinley said. "I begged my parents every day for a little brother, and when I finally got one, I was consumed. I was totally engrossed in Danny, his differences, he was amazing.
He died, but I definitely haven't lost him, he taught me everything know, and everything I do to this day is for him."
David created Taste for Change in his brother's memory, an event that pairs wine and tapas for a new charity each month.
For the inaugural Taste for Change's event 2 p.m. Sunday at Sebastiani's Italian Bistro and Wine Bar in Huntington Beach, Best Buddies, an organization educating communities on mental disabilities, will benefit from the proceeds.
David's parents also adopted two wonderful children with Down syndrome, and ride 300 miles each year in support of Best Buddies.
So you can join Taste for Change, a chance to enjoy wine and do great things for people. Tickets cost $25. A dozen wines will be poured, including several desert wines, with proceeds from tickets/bottle purchases going to Best Buddies. For more information please email: .(JavaScript must be enabled to view this email address)
Or contact David McKinley directly: 714.519.5455
Sebastiani's Italian Bistro at 6078 Warner Ave. in Huntington Beach. 714.841.3619
---
More Greer