Greer's Blog
11.12.09
"The Living Room" Salon in Costa Mesa is throwing a trunk show this Sunday! Four decades of vintage clothing, shoes, handbags and accessories. Wine and hors d'oeuvres will be served, so bring a friend! The Living Room is at 123 Rochester Street in Costa Mesa (right behind Grants for Guns on Newport Blvd.). Sunday, noon to 3 p.m. 123 Rochester St. in Costa Mesa. 949.631.0808.
---
11.12.09
Shop for a cause! Help abused children in OC and find unique holiday gifts all at the same time. You can attend the Childhelp Holiday Boutique and Luncheon Monday, from 9:30 a.m. to 2 p.m. at the Hyatt, Regency, Irvine. 9:30 a.m. shopping extravaganza begins; 11:30 a.m. luncheon. 17900 Jamboree Rd. in Irvine. Tickets cost $75. 949.548.4228.
---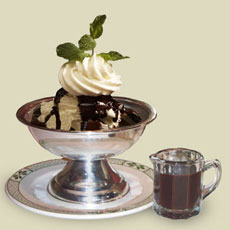 11.10.09
Local chocoholics, I have the best news for you since Tracey Downey moved to Xan Confections. C.C. Brown's Hot Fudge Sauce (est.1906 and reportedly the country's first chocolate sauce) is now available online or at the Five Crowns in Corona del Mar. It took Clarence Clifton Brown two decades to perfect (you have to love that kind of dedication/obsession). A long celebrity fan base includes icons such as Marilyn Monroe, Marlon Brando, Bob Hope, John Travolta, Michael J. Fox, and Phil Collins. Back in the day, long lines formed at C.C. Brown's Hollywood Boulevard ice cream shop near Grauman's (now Mann's) Chinese Theater. It costs $7.50 per 10-ounce jar, or online $30 per case (four jars), making it a perfect gourmet gift for holiday giving. 3801 E. Coast Highway in Corona del Mar. 949.760.0331.
---
11.09.09
Ever wondered how you can achieve a sexy chic blow-out you that you leave a salon with? You can learn from pros at the Hollywood Blow-Out Night at Nova Vita Salon in Tustin, Thursday from 4 to 7 p.m. Just book a $30 blow-out session (a $65 value) during the event and receive deluxe sample size products to recreate the look at home. Complimentary wine and appetizers; free L'Oréal Professional gift to everyone who books a styling appointment; and if you spend $50 on products you'll be entered to win a day of pampering (includes a massage and facial). 3011 Newport Ave. in Tustin 714.832.8900
---
More Greer