Greer's Blog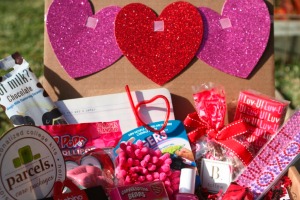 02.03.12
It's not too late to send a little love, with a Valentine's Day care package filled with treats and sweets thanks to Orange County-based Parcels Care Packages. The company specializes in personalized college kits for holidays, special occasions, or make a statement with a custom package for the perfect gift.
Send your special girl or guy sweetheart a care package filled with delicious B.Toffee, Jelly Belly's, lollipops, chocolate flavored straws and See's candy chocolate hearts. There is also a Babino cord wrap for earphones, microfiber "fuzzy fingers" mitt, luv-u hankies, Essie nail polish, nail files and "the one I love" note pad. For him, add some treats such as a Moleskine notebook, a Duncan yo-yo, Every Man Jack face lotion and lip balm, and a bag of pistachios for a perfect snack. Each package costs $53.
You can call 714.336.3829, or order online at parcelscarepackages.com/collegekits.html.
---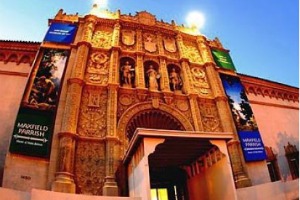 02.01.12
February is the time to visit and explore San Diego's museums--- it's Museum Month in San Diego, courtesy of Macy's. Forty participating museums from diverse focuses in art, science, natural history, aquariums, and botanical gardens are offering a 50% discount on admission. You can pick up a free Museum Month Pass at any of Macy' fourteen stores in San Diego County. Each pass allows up to four visitors half-off admission to any of the participating museums, valid for the entire month of February. Here's a link to Macy's San Diego's stores; and the entire list of museums can be viewed here.
---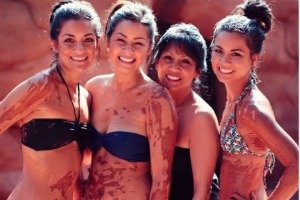 01.30.12
Escape Orange County for a day of pampering and relaxation at the renowned Glen Ivy Hot Springs in Corona. It's an oasis covering 11 lavish acres, with 15 different experiences to indulge in throughout the day. Glen Ivy boasts natural hot spring mineral baths, a saline pool, an underground cavern, a red clay mud bath, massage areas in private wooded outdoor rooms and much more. There's even Café Sole that serves delicious Mediterranean cuisine prepared with organic ingredients.
Each month, Glen Ivy unveils a new treatment ideal for the season. For February, enjoy a Rose Hydration Facial using natural organic plant-based beauty products from Primavera. The facial was designed to rehydrate your skin with custom distilled organic roses and you'll also receive an Opal Eye treatment and Moroccan Oil Scalp Treatment. The treatment lasts 50 minutes and costs $105. Also, take advantage Glen Ivy's gift card sale starting on Feb. 1 at www.glenivy.com - $100 Glen Ivy gift cards will cost only $85 each from February 1 to 14.
25000 Glen Ivy Road in Corona. Call 888-GLEN IVY to reserve.

---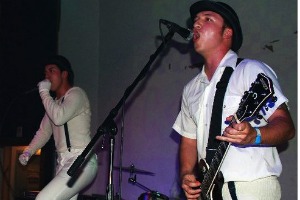 01.30.12
Support local musicians on Tuesday by attending the free and always inspiring OC Music Awards Showcase Best Live Band show at the Tiki Bar in Costa Mesa. The line-up of acts starts with Red 9 performing at 8 p.m., Slime Kings at 8:45 p.m. (pictured above), Snakebit Drifters at 9:30 p.m., Death Hymn Number 9 at 10:15 p.m. and Railroad to Alaska at 11 p.m.
The showcase series continues every Tuesday through Feb. 14 with shows at The District at Tustin Legacy, The Slidebar, Malone's, Tiki Bar, Continental Room, and Constellation Room. Doors open at 7:30 p.m., and you must be 21 to attend.
Tiki Bar is at 1700 Placentia Ave. in Costa Mesa.
---
More Greer