Greer's Blog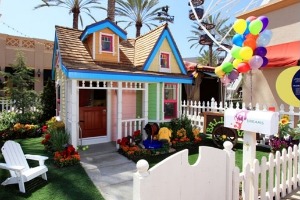 10.07.11
It's hard to believe it's already the 20th anniversary of Project Playhouse benefiting HomeAid OC, an organization dedicated to rebuilding lives by providing dignified housing to the homeless. Since debuting, it's raised $5.8 million, and provided 47 housing developments that serve victims of domestic violence, abused children and homeless families.
Project Playhouse will kick off Saturday with an open house from noon to 6 p.m. It's the only day you can go in to the incredible playhouses. Tickets cost $10 (donation) per person, no charge for children 3 and under.
Following the grand opening Village tours will be available Fridays (noon to 4 p.m.) and Saturdays and Sundays (noon
to 6 p.m.) for a $2 donation. You can only view the playhouses through the doors. Houses will remain on display until the gala auction at 6 p.m. on Friday, Nov. 11 at the Balboa Bay Club in Newport Beach.
Tickets cost $275 per person. Want to register as a bidder to own your very own dream playhouse? You can register now, by contacting Gina Scott at HomeAid Orange County, via email at gina@homeaidoc.org or call 949.553.9510.
For more information, visit projectplayhouse.org.
Irvine Spectrum Center is at 57 Fortune Drive in Irvine.
---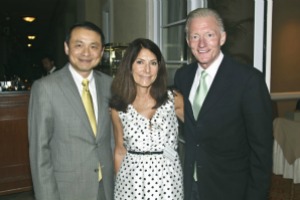 10.06.11
The UC Irvine Diabetes Center held its annual fundraiser on September 22, 2011, at the Balboa Bay Club & Resort in Newport Beach.
The evening's theme "Toasting American Ingenuity" celebrated advances in technology and medical science. Guests dined on regional American fare paired with craft beer and Paso Robles wines. The event drew 260 guests, featured silent auction and opportunity drawing, and raised approximately $385,000 for the Diabetes Center's research initiatives.
Under the leadership of Director Dr. Ping Wang, the UCI Diabetes Center offers patient care and conducts research on multiple fronts -- from regenerating pancreatic cells to applying information technology to compute and analyze stem cell data. The Center also trains the next generation of physicians and researchers.
---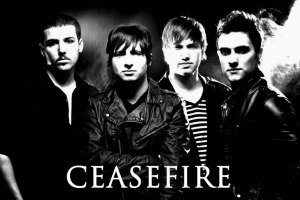 10.04.11
One of our favorite local OC bands, Ceasefire has changed its name and making its mark.
Formerly Stereofix, the band combines the elements of classic rock, electronic music and pure showmanship on stage to create an incredible experience for all their loyal fans.
"This Love Will Tear Us Apart," their brand new single hit iTunes today. The song, which examines a relationship that eventually becomes destructive, was recorded in the studio alongside Paul Fox (Björk, 10,000 Maniacs, Phish) and Tim Palmer (Robert Plant, The Cure, U2).
Check out the new single on ReverbNation and purchase the track on iTunes.
---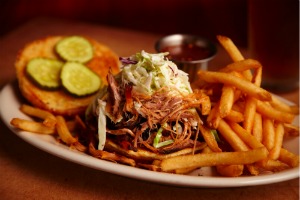 10.04.11
Craving award-winning barbecue pulled pork and tasty baby back ribs? You're in luck. The Orange County Register and the Los Angeles Times just crowned Wood Ranch BBQ & Grill as the best barbecue in OC, and in SoCal respectively. Now Irvine Spectrum Center boasts a new Wood Ranch that's the best-looking location we've ever been in. We love the contemporary interior, attention to detail and fantastic wood ceilings. It's serving dinner this week after 4 p.m. and starting Monday, it will open for lunch and dinner daily, beginning at 11 a.m.
At Wood Ranch, start with its famous slightly buttered garlic rolls, then depending on what you're hungry for choose from certified angus beef steaks and burgers; prime rib; slow-roasted, mesquite-grilled tri tip roasts; premium American baby back ribs; Carolina pulled pork; and locally-raised fresh chicken.
Fresh seafood options include Idaho trout and Atlantic salmon menu, as well as unique salads, and delicious desserts meant to be shared.
For kids 10 and under, there's an award-winning children's menu that named "One of the Best Kids Menus in America" by Restaurant Hospitality magazine. They can choose from BBQ trip tip sandwiches ($6.99), beef ribs ($5.99), mac & cheese ($5.49) and mor. All meals come with a side dish and milk, chocolate milk, fresh lemonade, or soda.
Stop in for happy hour, Monday through Friday from 3 to 6 p.m., and enjoy specials on drinks and appetizers in an interior sporting a great bar with big screen TV's or outside on the patio to enjoy the weather.
Wood Ranch is adjacent to adjacent to Edwards Irvine Spectrum 21 at Irvine Spectrum Center, 57 Fortune Drive, Suite 230 in Irvine 949.337.4855.
Other Orange County locations include Wood Ranch Rancho Santa Margarita at El Paseo Plaza, 22352 El Paseo in Rancho Santa Margarita. 949.888.1100.
Wood Ranch Anaheim Hills at Anaheim Hills Festival, 8022 E. Santa Ana Canyon Road in Anaheim. 714.974.6660.
Both locations are open from 4 p.m. Monday through Friday; and 11:30 a.m. Saturday and Sunday. Happy hour lasts from 4 to 6 p.m. Monday through Friday.
---
More Greer