Greer's Blog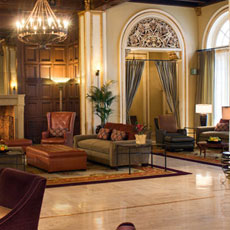 10.16.09
Hey, Facebookers! Stop updating your status for a bit to check this out: Larkspur Hotels & Restaurants is giving eight lucky Facebook fans a two-night getaway, complete with a Southwest Airlines gift voucher, dinner for two, etc.
Here's how you can enter the "I Need a Vacation Because ...!" contest, which ends Nov.17: Visit Larkspur's Facebook page, become a fan, and in 50 words or less, post a comment on the page and describe why you need a vacation. Eight winners will be selected to win a vacation to each of the eight Larkspur Collection hotels. Winners will receive a two-night stay, a $150 Southwest Airlines gift card, dinner for two at the hotel's restaurant, a bottle of sparkling wine and of course, early check-in and late check-out.
The Larkspur Collection includes eight boutique hotels, including: The Belamar Hotel in Manhattan Beach; Casa Munras in Monterey, CA; Hotel Abri and Villa Florence in San Francisco; The Lodge at Tiburon in Tiburon, CA; RiverPlace Hotel in Portland, OR; The Sainte Claire in San Jose; and Toll House Hotel in Los Gatos, CA.
---
10.16.09
I just found out that Fashion Island landed a major coup, Celestino Drago is opening his first restaurant outside L.A. in spring 2010! Osteria Drago will feature fresh, high quality and seasonal food from throughout Italy. Just think this spring you can order family-style dishes including Naples-style wood burning pizzas, fresh pasta, lasagna, specialties such as pumpkin stuffed tortellini, polenta, fish and game. And it will have a wine bar with an extensive list of rare wines, and a bar menu with charcuterie and small plates available throughout the day. Adjacent to the new Nordstrom at Fashion Island in Newport Beach.
---
10.14.09
At Zov's Bistro in Tustin you can spend an afternoon with Chef Dave Martin from season one of Bravo's "Top Chef" and chef/owner Zov Karamardian Sunday at 11:30 a.m. The duo will be performing a live culinary demo and hosting an intimate three-course lunch. The demo and lunch is priced at $75 per person. Space is limited and reservations can be made by calling Connie Tran at 714.838.8855, ext. 21. Zov's Bistro is at 17740 E. 17th St. in Tustin. .
Chef Martin will demonstrate signature dishes, including his famous black truffle mac and cheese, cider-marinated pork tenderloin with hoisin and fresh apple cider with apricot and mango chutney, roasted wild mushroom mashers and brussel sprouts. For dessert pumpkin panna cotta with gingerbread cookie.
And here's his famous recipe:
Dave's Black Truffle Mac 'n' Cheese
Yields 12-15 orders (10 oz ramekins)
Ingredients:
1 cup shallots (robo coupe)
24 cloves of fire roasted garlic
8 cups (64 oz ) of cream
3 Tbsp fresh oregano , chopped and cleaned from stems
3 Tbsp fresh thyme, chopped and cleaned from stems
½ cup sherry
½ cup brandy
6 Tbsp black truffle shavings and liquid from the can
2 cups of good parmesan
½ cup white truffle oil
2 tsp Tabasco
2 eggs (LIASON slowly in separate container with hot liquid from stovetop and do not curdle or cook eggs then add back to the stovetop mixture)
2 tsp kosher salt
2 tsp black pepper
3 cups grated Fontina cheese (fine grate not large)
3-4 cups seasoned bread crumbs
2 lbs cooked and drained Gemelli noodles (be sure to cook in salted water)
Method:
Caramelize shallots with fresh herbs and then add roasted garlic and deglaze with sherry and brandy then let truffles infuse and let mixture cook down on stovetop for about 30 minutes until the cream is reduced and thickened. Drain pasta from stovetop and then mix in fontina and parmesan along with the reduced cream and then top place into ramekins and top off with seasoned bread crumbs and bake at 350-400 degrees until heated all the way through and serve.
---
10.13.09
Ricochet, the Surfin' for Paws-abilities surf dog who is fundraising for Patrick Ivison, a 15-year-old quadriplegic and surfer exceeded her fundraising goals, and won second place in the large dog category at the Surf City Surf Dog event last weekend in Huntington Beach. You can see my video about the event, Ricochet and Patrick here.
Ricochet has been leading a fundraising campaign for Patrick for the last several months. As part of these efforts, she and Patrick performed a tandem surf demonstration at the Surf City Surf Dog event last Sunday with the goal of raising funds, as hundreds of onlookers enjoyed the tandem pair.
Ricochet's fundraising goals were twofold: Raise enough money to cover the $2,000 cost of Patrick's new service dog, Kona from Pawsitive Teams, a local service dog organization. And, raise at least $5,000 for Patrick's intense physical therapy at Project Walk.
The WebMD Health Foundation, who is thrilled to help Patrick reach his goals, made a kick off donation of $3,600, which helped Ricochet raise a total of $8,200, exceeding her goals! Donations are still coming in, and being accepted, so the totals will be updated in the next several weeks. If you'd like to make a donation click here.
Patrick suffered a spinal cord injury as a result of an uninsured driver backing a car over him, when he was a child.
---
More Greer