Greer's Blog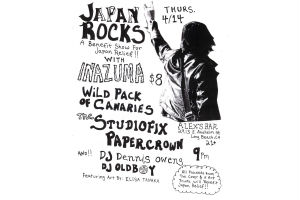 04.13.11
In Japan's time of need, every little bit helps. Local musicians are gathering Thursday night to benefit The American/Japanese Red Cross Society at Alex's Bar in Long Beach.
The proceeds from the cover charge, a mere $8 for an entire evening of face-melting music, will all be donated for relief to the nation of Japan.
The bill for Japan Rocks includes early rock'n'roll and rockabilly inspired Inazuma (Japanese rock heroes from Los Angeles), the energetic rock and funk band The Studiofix (from Los Angeles and OC), rock and noisy "space jam" Wild Pack of Canaries (from Long Beach) and big city psych Papercrown (from Long Beach)
The evening will also feature sets from DJ Dennis Owens (The Good Foot/Free Moral Agents) and DJ OLDBOY (Thee Tambourine), as well as Japan Relief Art Prints by Elisa Tanaka. All the proceeds from Elisa's art sales will also be donated.
Additional donations are welcomed.
Alex's Bar is at 2913 E. Anaheim St. in Long Beach. All attendees must be 21 or over to attend.
Art credit to Daisuke Okamoto.
---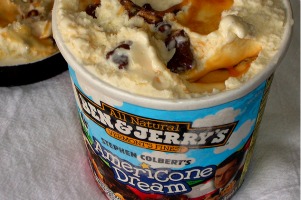 04.12.11
Ben & Jerry's is handing out free ice cream cones today from noon to 8 p.m. at all of its Scoop Shops! In Orange County, this means you can go to Ben & Jerry's at the District at Tustin Legacy. Stop in for a free scoop of a longtime favorite or discover a new flavor, like Late Night Snack, with fair trade vanilla bean ice cream with a salty caramel swirl and fudge covered potato chip clusters; Bonnaroo Buzz: light coffee and malt ice creams with whiskey caramel swirls and English toffee pieces; and our personal favorite, Stephen Colbert's AmeriCone Dream: (pictured above) vanilla ice cream with fudge covered waffle cone pieces and a caramel swirl.
The event will also feature live music, balloon art and face painting.
Ben & Jerry's at 2459 Park Ave. in Tustin. 714.258.0808.
---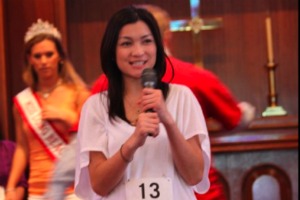 04.11.11
Fancy yourself a gifted speller? Well, here's your chance to test your spelling skills (publicly no less) and possibly raise $1,000 for your favorite charity.

My two eldest sons and I will be entering the $1,000 National Adult Spelling Bee Sunday at 2 p.m. in Long Beach in the hopes to come home with $1,000 for Jack and Milly, the two students in Kenya that I'm helping put through college in Nairobi.

I won Spelling Bees in elementary school, so why not? And you can compete against me too.

The entry fee costs $30, or $40 at the door. As long as you're at least 16-years-old, you're in. The winner will receive $500, and heir favorite nonprofit organization, school, or church will receive $500. For entry form, words to study, etc. check online at www.AdultSpellingBee.com.
At Bay Shore Church at 5100 E. Toledo in Long Beach. See you then!
---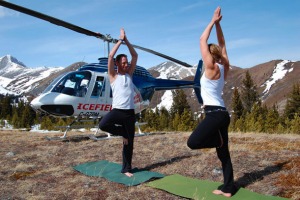 04.11.11
Have you heard that John Wayne Airport will start offering daily non-stop flights to Canada? Beginning May 2, WestJet, Canada's leading discount airline, will fly from Orange County to Vancouver, British Columbia, and on June 13 to Calgary, Alberta.
This means you can take advantage of easy vacation experiences to Canada. And to find out more about Travel Alberta's beautiful vacation packages, you can join Alberta's heli-yoga instructor Kristen Stuart and YogaWorks Tuesday from 11 a.m. to 1 p.m. for a virtual heli-yoga experience at the Irvine Spectrum Center.
The event, open to the public, will virtually transport participants to an alpine meadow in the Canadian Rocky Mountains and one lucky attendee will win a heli-yoga vacation package to Alberta and a one month pass to YogaWorks.
The first 200 people will receive free t-shirts, water bottles and totes. And the first 75 will receive a free yoga mat.
Near the Giant Wheel at the Irvine Spectrum Center at 71 Fortune Drive in Irvine.
---
More Greer