Greer's Blog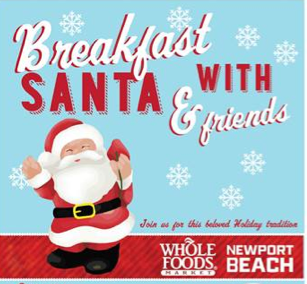 12.09.13
Santa is stopping by Whole Foods Market Newport Beach to enjoy a breakfast on Saturday from 9 a.m. to 11 a.m. Join this beloved holiday tradition and create memories with your family and friends. Santa, Mrs. Claus, and their elf will pop in and chat with everyone.
The breakfast is $10 per person. Seating is limited. Reserve your seat by Dec. 10, by emailing cindy.oshea@wholefoods.com.
Whole Foods Market Newport Beach is at 415 Newport Center Drive in Newport Beach. 949.999.8572.
---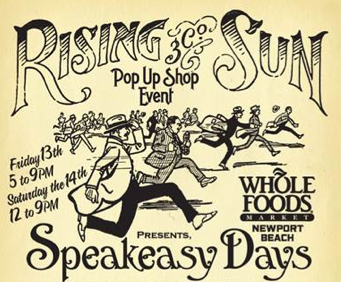 12.09.13
Come out and celebrate the history of the 1920's bar with Rising Sun & Co pop-up shop event and vintage car show on Friday, Dec. 13 from 5 to 9 p.m. and Saturday, Dec. 14 from noon to 9 p.m. at the Back Bay Tavern at Whole Foods Newport Beach.
Back Bay Tavern will be serving prohibition style beer and Chef Alan's award winning chili fitting of era at 1930's prices. The vintage car show will feature '30s era cars, hot rods and motorcycles, plus live music by RT and the 44's and Speedbuggy. Preferred parking for vintage cars, bikes and traditional hot rods.
Back Bay Tavern is at Whole Foods Market Newport Beach is at 415 Newport Center Drive in Newport Beach. 949.999.8572.
---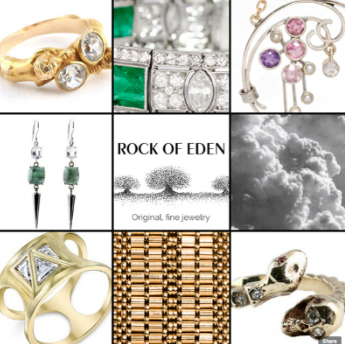 12.03.13
There is jewelry that is admired casually and then there is jewelry one dreams about. It's that gotta-have-it, it-speaks-to-me feeling that can't be shaken.
OC based Rock of Eden, original, fine jewelry is that kind of jewelry. This modern and antique online gallery of fine jewels (prices from $200 - $10,000) is a feast for the eyes. Elizabeth Hargreaves, designer, owner and curator chooses pieces rarely found anywhere else in the world. "These pieces have a story to tell and people connect with them intuitively and emotionally. It's gratifying to be part of that," she says.
She can't mention names but a celebrity singer/songwriter recently purchased a pair of spike and sapphire earrings from the Rock of Eden modern collection
Rock of Eden also offers extensive fashion and blog commentary at blog.rockofeden.com, making it a rich and rewarding experience that goes far beyond that of a traditional jewelry store. There are detailed descriptions of these one-of-a-kind pieces that help customers appreciate and understand the craftsmanship, the stones and even the time period of design.
Rock of Eden jewelry appeals to many types of women: connoisseurs of luxury who want beautiful jewelry and not just a label, fashionistas who want less costume jewelry and more fine jewelry, and on-the-go moms who want a great right hand ring or stacking bracelet to pump up their their skinny jeans and black t-shirt look.
In celebration of Rock of Eden's upcoming one year anniversary, Thursday, Dec.12. They are posting a vintage luxury watch at a one-time price. It will be posted at noon on their website, rockofeden.com 12.12.12
And for its anniversary, shop online and use the promo code (12 plus 12) valid through 12/12 for 24% off. Free domestic shipping and gift wrapping included. The entire collection can be found here.
---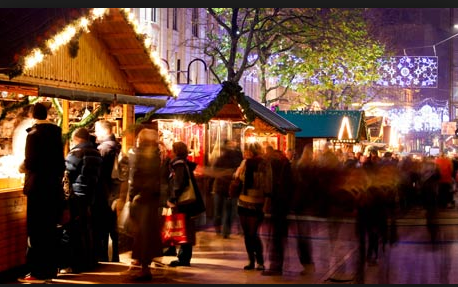 12.02.13
Get in the holiday spirit this Saturday from 3 to 9 p.m. at the newly opened Farmers Park at the Anaheim Packing District in Anaheim for Christkindlmarkt, a genuine family-friendly German Christmas Market. The festive ambience will light up Farmers Park and Anaheim Brewery with tempting aromas of delicious yuletide treats. You can shop for locally handmade gifts from artisans and crafters while listening to live holiday music from the German American Brass Band.
Enjoy local history from the Anaheim Historical Society as they host a wine garden featuring Gluwein, a German mulled wine. Sample tasty treats from vendors soon to open at the Anaheim Packing House such as Wheat and Sons Butcher/Rotisserie (German sausages and homemade pies), The Kroft (deliciously crafted sandwiches), and Lemon Drop serving hot apple cider. Guests will also enjoy traditional German desserts and Bavarian pretzels.
The Anaheim Packing District is at 440 S. Anaheim Blvd. in Anaheim.
---
More Greer