Greer's Blog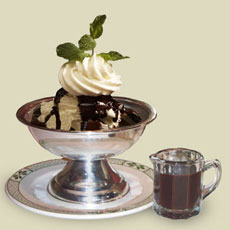 11.10.09
Local chocoholics, I have the best news for you since Tracey Downey moved to Xan Confections. C.C. Brown's Hot Fudge Sauce (est.1906 and reportedly the country's first chocolate sauce) is now available online or at the Five Crowns in Corona del Mar. It took Clarence Clifton Brown two decades to perfect (you have to love that kind of dedication/obsession). A long celebrity fan base includes icons such as Marilyn Monroe, Marlon Brando, Bob Hope, John Travolta, Michael J. Fox, and Phil Collins. Back in the day, long lines formed at C.C. Brown's Hollywood Boulevard ice cream shop near Grauman's (now Mann's) Chinese Theater. It costs $7.50 per 10-ounce jar, or online $30 per case (four jars), making it a perfect gourmet gift for holiday giving. 3801 E. Coast Highway in Corona del Mar. 949.760.0331.
---
11.09.09
Ever wondered how you can achieve a sexy chic blow-out you that you leave a salon with? You can learn from pros at the Hollywood Blow-Out Night at Nova Vita Salon in Tustin, Thursday from 4 to 7 p.m. Just book a $30 blow-out session (a $65 value) during the event and receive deluxe sample size products to recreate the look at home. Complimentary wine and appetizers; free L'Oréal Professional gift to everyone who books a styling appointment; and if you spend $50 on products you'll be entered to win a day of pampering (includes a massage and facial). 3011 Newport Ave. in Tustin 714.832.8900
---
11.08.09
This sale is pretty unreal. Everything at the Hugo Boss store at South Coast Plaza is marked down 40%! That's huge for Hugo Boss followers. Hugo Boss specializes in contemporary to ultra-modern clothing and accessories for men and women. (European cuts mean sizes run small.) For the price, it offers top quality, cut and fabrics. In case you're a Hugo newbie, their color label system goes like this: orange is casual wear, black is classic; red is European cut (fitted); green is sporty. Jeans and casual sportswear are their biggest seller, yet they carry head-to-toe casual and dress clothing. Open 10 a.m. to 9 p.m. Monday to Friday; 10 a.m. to 8 p.m. Saturday; 11 a.m. to 6:30 p.m. Sunday. Level 1 at South Coast Plaza in Costa Mesa. 714.641.8661.
---
11.06.09
Join Pinch Me! band's free courtyard concert at Muldoon's Celtic Bar and Pub in Newport Beach Sunday from 2 to 4 p.m. The semi-unplugged show promises to be a great event complete with live music, wonderful food and more. Muldoon's Celtic Bar and Pub at 202 Newport Center Drive, Newport Center. And the Newport Beach-based band will also be performing at the Orange County Walk Now for Autism Saturday, Nov.14 at Angel Stadium of Anaheim. Walk Now for Autism is a family-friendly event with face painting, tattoos, costumed characters, and more. The walk generates much needed funds for autism research and awareness. 8 a.m. to 1 p.m. 2000 E Gene Autry Way, Anaheim. 714.940.2000. For more information on Pinch Me! and their upcoming events please call 949.719.9210.
---
More Greer