Greer's Blog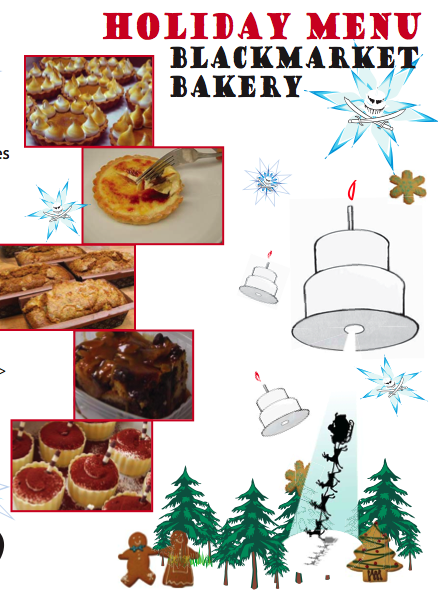 11.02.09
This is turning out to be a busy week, but I suggest you pencil this in. Blackmarket Bakery is having a Holiday Open House on Saturday from 2 to 5 p.m.! You can have a great time and enjoy delicious samples from its holiday menu! Chef Rachel Chef Rachel Marie Klemek and her team are baking seasonally inspired tarts, bread pudding and gingerbread, as well as the new Cabernet Wine Brownie. Blackmarket Bakery, 17941 Sky Park Circle Ste. E. in Irvine. 949.852.4609.
---
10.26.09
Come in costume and spend Halloween trick or treating with the animals of the OC Zoo on Oct. 31 from 10 a.m. to 4 p.m. Activities include crafts for kids, face painting, and for children 12 years & under, trick-or-treating and a scavenger hunt! The first 100 children (ages 12 & under) in costume receive a free gift. Zoo animals receive treat-filled pumpkins throughout the day. More info, call Marcy at 714.973.6846. Free with zoo admission ($2 per person, ages 2 & under free). Irvine Park entry $5 per car. Orange County Zoo at 1 Irvine Park Road in Orange. 714.973.6847.

---
10.21.09
If you can't find your favorite sweater, and you need help organizing your closet, then it's time to call Newport Beach-based Smartstyle. Owner Beth Zehnder specializes in closet organization and wardrobe consultation, and she comes highly recommended to me. Book an appointment you'll receive a 15% discount good through December. 949.230.8252 or e-mail her here.
---
10.20.09
I'm continually in awe of what Newport Beach-based Daddy Cakes is doing for our community. And they're back at it again Saturday from 10 a.m. to noon by hosting a delicious pancake breakfast at the OC Rescue Mission's Village of Hope. Anyone can attend, just pay $5 per person or donate five cans of food or other non-perishable items. Coffee will be provided by Peet's Coffee & Tea at The District in Tustin. Daddy Cakes will also be serving breakfast to the approximately 200 residents at the Village of Hope and will be donating pancake and waffle mix, the equivalent of more than 3,100 pancakes. Food boxes will be delivered to homeless and families affected by the recession throughout Orange County. OC Rescue Mission's Village of Hope at One Hope Drive in Tustin. 714.247.4300.
---
More Greer