Greer's Blog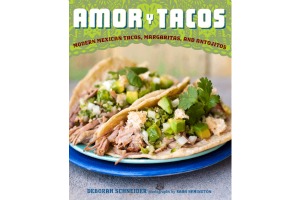 03.11.11
Next Tuesday at 7 p.m. Chef Deborah Schneider of SOL Cocina in Newport Beach will be sharing tips for creating delicious Mexican cuisine at the Newport Beach Central Library.
Guests can taste some of her favorites from her latest cookbook, "Amor y Tacos." The menu includes SOL house margaritas, pico de gallo, naked guacamole, avocado Caesar salad, chicken and cheese enchiladas, salsa ahogada and warm chocolate-banana bread pudding with cinnamon crème anglaise. You can also purchase the SOL-inspired Amor y Tacos cookbook at the event. The cost of the class is $20 per person and guests may register online.
1000 Avocado Ave. in Newport Beach. 949.644.3151.
---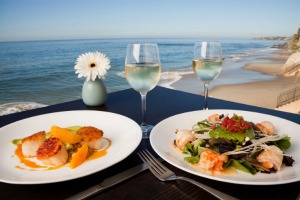 03.10.11
Laguna Beach a la Carte kick-off-ed its celebration Thursday night with "A Taste of California: Wine & Food Tasting" at Laguna Culinary Arts. The evening included great wines paired with small bites prepared by Executive Chef Laurent Brazier of Laguna Culinary Arts. The tasting was outside at Laguna Culinary Arts from 6 to 8:30 p.m. on Laguna Canyon Road in Laguna Beach.
On Friday, the Rooftop Lounge at Hotel La Casa del Camino hosts a rooftop rendezvous with cocktails and passed appetizers from K'ya Bistro Bar from 7 to10 p.m.
Tickets are $75 per person. (La Casa del Camino will be donating a portion of the ticket sales to the surf charities that were involved in the Casa Surf Project.) Tickets can be purchased at Hotel La Casa del Camino, 1289 S. Coast Highway, or by calling 949.497.2446.
On Saturday, mix-n-mingle at Surf & Sand Resort's "Sunset Social" on its new pool deck from 6:30 to 8:30 p.m. Enjoy tray-passed hors d' oeuvres. At the no-host bar, sip and savor a unique creation by Mixologist/Pastry Chef Ryan Velilla (a champagne cocktail served with liqueur-infused caviar or port infused gummi bears & chocolate truffles). Live music will add to the festivities.
The event is free; however attendees must be on the guest list. To RSVP, send an email to ssconcierge@jcresorts.com or call 949.376.2774 by Friday.
On Sunday, Tivoli Too! and the Laguna Board of Realtors will host a Champagne tasting and jazz brunch from 11 a.m. to 2 p.m. with free-flowing Champagne on the Tivoli Too! grounds. Betty DeGeneres (Ellen's mom) will be the guest host.
Featured Champagnes and sparkling wines will be provided by Nicolas Feuillatte Winery (the No. 1 selling Champagne in France). Live entertainment will be provided by the George Gilliam Trio, with guest singer Elena Gilliam.
Tickets cost $75 per person ($25 is tax deductible and being donated to the Laguna Beach Animal Shelter), which suffered severe damage during the recent rains. To purchase tickets, please call the Laguna Board of Realtors at 949.497.2474. Tivoli Too! is located at 777 Laguna Canyon Road.
Also, on Sunday, the award-winning Studio at Montage Laguna Beach will host a culinary exploration reception from 6 to 7 p.m., followed by a three-course wine pairing dinner featuring the chefs of Montage from 7 to 9 p.m. Tickets cost $100 per person. To purchase tickets, call 949-715-8893. Studio at Montage Laguna Beach is at 30801 S. Coast Highway.
---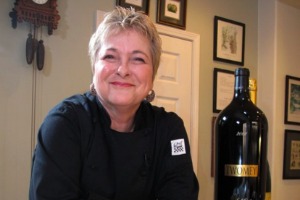 03.08.11
I wasn't one bit surprised when I read that Cathy Thomas was just named one one of OC METRO's 20 Women to Watch. If you love food, cooking, reading, radio, and newspapers, then you already know about Cathy Thomas. We're all in awe of her. She's a mother, wife, award-winning food columnist for two decades at the Orange County Register, cookbook author, speaker and teacher. She even invites famed chefs into her kitchen for how-to cooking videos.
Here she is with executive pastry chef Michael Owens from the Island Hotel in Newport Beach making moon pies.

Cathy dishes out secrets of creating delectable meals for family or entertaining without spending hours in the kitchen.

She also produces a free weekly newsletter related to all things food! It's easy to sign up here, and you might win her latest cook book, "Melissa's Everyday Cooking with Organic Produce."

Learn more about Cathy Thomas here.
---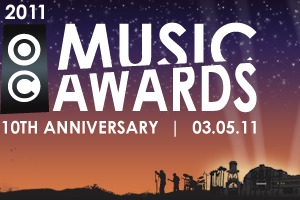 03.07.11
The OC Music Awards honored music legends and new, rising artists on Saturday night at the City National Grove of Anaheim.
A Lifetime Achievement award was presented to Stan Freese for his incredible musical impact at Disneyland (he was accompanied by everyone's favorite mouse on stage). The year's OC Impact Award was presented to Social Distortion, originally formed in Fullerton, that has continued to make its mark on music for past and present generations. The band also took home the Best Punk album award.
Newcomers Railroad to Alaska claimed the Best New Artist crown for 2011, but to see all the winner, visit ocmusicawards.com and be sure to keep your eyes out for the next big band from OC!
---
More Greer