Greer's Blog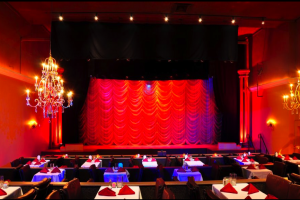 07.30.12

Enjoy dining, entertainment and comedy at the Encore Dinner Theatre & Club in Tustin. Formerly called the Curtain Call Dinner Theatre, the venue was the first movie theatre in Tustin that opened in 1959. The Encore Dinner Theatre & Club transformation has included a remodel, gourmet menu, fresh décor, a dining room with retractable chandeliers, a full bar, a lobby lounge, and more.
There really isn't anything quite like it in Orange County, a dinner house with professionally-produced Broadway musicals, stand-up comedy acts, and live entertainment. (It's also available for business meetings, gala dinners, and other private events.) The focus is on great food, entertainment and value. Showing through Aug. 19 is "Swing: A Big Band" musical revue complete with a 13-piece big band orchestra, swing dancers, tap dancers and more.
Performances are on Thursdays at 8 p.m.; Fridays at 7:30 p.m. Saturdays at 1 p.m. and 7:30 p.m.; and Sundays at 1:30 p.m. Tickets cost $46 to $69. Just arrive 90 minutes prior to show starting for dinner service. Discounts available for children, seniors and groups.
Each Friday and Saturday at 10 p.m. Encore Comedy Club brings in top stand-up comediennes. Tickets cost just $10. And on Saturday, Aug. 4 The Funniest Housewives of OC will be performing at 8 p.m. It's guaranteed that this funny group of diverse ladies will make you laugh. Tickets cost $15 to $35. To purchase tickets to any Encore performance or for more information on upcoming events, call 657.210.3200 or visit http://www.EncoreDinnerTheatre.com
---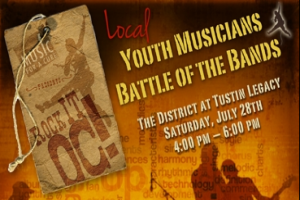 07.26.12
Saturday marks the return of Orange County's greatest battle of the bands, Music for a Cure's Rock it OC! at the District in Tustin. The competition for young musicians (ages 5 to 17 years) brings the five finalists together who have shared a home video of their band (solo artist) performing one song to http://www.vimeo.com/musicforacure to perform a free concert from 4 to 6 p.m. at The District Stage at the District in Tustin.
The winning artist will receive sponsored production of a music video and professional recording for one song. Murphy Karges, bass player for Sugar Ray, will coach the winning band through the video production and recording process. Rock it OC! benefits Music for a Cure's mission to bring the healing power of music to critically ill children.
The District at Tustin Legacy is at 2437 Park Ave. in Tustin.
---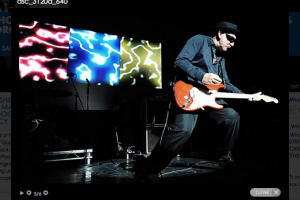 07.25.12
The Who will be performing their iconic 1973 double album "Quadrophenia" in its entirety, along with other classics at the Honda Center on Monday, Jan. 28, 2013. Tickets to see the Who go on sale Friday, July 27 at 10 a.m.
Founding members Roger Daltrey and Pete Townshend will perform with Zak Starkey (drums), Pino Palladino (bass), Simon Townshend (guitar/backing vocals), Chris Stainton (keyboards), Loren Gold (keyboards/backing vocals) and Frank Simes (musical director, keyboards/backing vocals). You can take the VIP route with exclusive experiences and packages like great seats, a special invitation to The Who's VIP preshow sound check, limited edition autographed memorabilia, preshow parties and more.
Tickets will be available at ticketmaster.com, Ticketmaster stores, or by calling 800.745.3000, or at Honda Center Box Office beginning Saturday at 10 a.m. 2695 East Katella Ave. in Anaheim.
---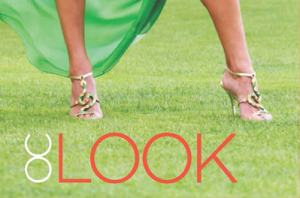 07.23.12
Join us at one of Orange County's premiere events of the summer, OC Look, at a gorgeous residence in Ritz Cove in Dana Point on Thursday, July 26 at 6 p.m.
The annual soiree hosted by Orange Coast Magazine raises much needed funds ways to prevent, treat, and find a cure for type 1 diabetes, through the Dream Guild of the Juvenile Diabetes Research Foundation. The event celebrates 16 people recognized as the OC Look 2012 nominees selected for their style and accomplishments in Orange County. The advisory board is comprised of a team of fashionable trendsetters in Orange County.
During the fashionable party everyone will be treated to MAC makeovers, handwriting analysis, informal modeling from Saks Fifth Avenue, a photo lounge, and cocktails by Karlsson's Vodka and Bel Air Bellini and much more. There will also be an opportunity drawing for prizes packages including exclusive retail items and packages.
All monies raised will go directly to support JDRF's research in finding a cure for type 1 diabetes. Tickets cost $75 each. For more information on OC Look and to purchase tickets, please visit: http://www.orangecoast.com/oclook2012.aspx, or call JDRF, Orange County Chapter at 949.553.0363.
---
More Greer