Greer's Blog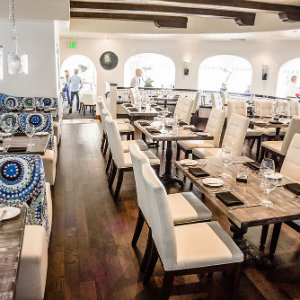 11.20.17
Celebrate Thanksgiving overlooking the Pacific Ocean with breathtaking views of the Laguna Beach coastline at Las Brisas, a Southern California landmark. Originally, the Victor Hugo Inn, the property was renamed Las Brisas, in 1979, to become a first-class sea-to-table culinary destination. Executive Chef Matthew Robinson has created a special Thanksgiving menu served from 11 a.m. to 8 p.m. featuring the finest in California cuisine.
The menu features:
Amuse of Goat Cheese – almonds, persimmons, pomegranate, and local honey.
First Course – choice of one, Frisee & Lola Rosa – house ricotta, figs, house raisins, pine nuts; and Burnt Orange & Cabbage Soup, with mint oil and carrot chips.
Entrees – choice of one: Traditional Turkey with cranberry ginger sauce, sage fennel stuffing, smashed potato, and gravy; or Branzino black pepper spaetzle with kumquat, herb salad, lemon & lime brown butter; and 28 Day Aged Bone-In Rib Eye with forest mushrooms, parsnip, winter truffles; and Scallops with pickled cauliflower, watercress, poppy seed buerre monte; and Spaghetti Squash Tian with Portobello, sunchoke, brussels sprouts, and onion sprouts.
The Grand Finale – choice of one: Pumpkin Pie with marshmallow sour cream, ginger snap crumble, crème Anglaise; or Apple Tarte Tatin – bourbon caramel, vanilla spice gelato, sunflower seeds, granola and apple chips.
361 Cliff Drive in Laguna Beach. 949.497.5435.
---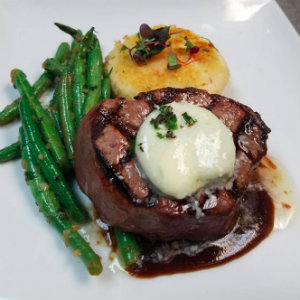 11.20.17
Longtime Long Beach-based restaurateur Ray Lasher is back. He closed his venerable namesake restaurant, Lasher's, in 2012 and has returned to the dining scene with a new concept, Lasher's Kitchen, located in the Belmont Shore area of Long Beach and open Tuesday through Sunday for lunch, dinner and weekend brunch.
"It feels good to be in front-of-the-house again," said Lasher. "The original restaurant was open for 15 years, and I enjoyed every minute of it. I continued working in the restaurant industry as a consultant. Then this location came along and it was a game changer."
Lasher's Kitchen, is a more casual concept than the original Lasher's. The 45-seat restaurant, offers a contemporary design, original artwork, and an intimate wine bar. The restaurant also features a pet-friendly sidewalk patio and a communal table positioned front and center.
The menu has a few dishes, such as the clam chowder, fried green tomatoes, and meatloaf, from the original restaurant, but Chef-Partner Raquel Jubran, better known as Chef Roq, is constantly creating new dishes often dictated by season. The menu is divided into four categories: Shareables, Journeys, Sidetracks and Sweet Destinations.
Chef Roq's signature dishes include Crispy Yuca Fries with banana ketchup and Aji Amarillo salsa, the pastry-filled Savory French Cigar with chicken and bacon ragout, Fleet Street Meat Pie made with braised short rib and root vegetables with a pastry crust, Braised Pork Belly with Cherry Cola Demi-Glace served on a crispy potato cake with tobacco onions, and Asiago and Cheddar Grilled Cheese.
Lasher's Kitchen opens at 9:30 a.m. Saturday and Sunday for weekend brunch, which features an array of morning and mid-day favorites. Social Hour, which takes place weekdays from 2-6 p.m., features a menu of shareable plates and $5 pours of selected red and white wines. Every Wednesday Lasher's Kitchen caters to oenophiles with its "no corkage fee" followed by Prime Rib Thursday for carnivores. Fresh fish also plays a prominent role on the menu.
Open Tuesday-Sunday for lunch, dinner and weekend brunch.
Lasher's Kitchen is at 5295 E. 2nd Street in Long Beach. 562.343.7228 or visit lasherskitchen.com
---
11.17.17
Get into the holiday spirit early at Fashion Island's Annual Tree Lighting Ceremony tonight and Saturday, Nov. 18 at 6 to 6:30 p.m. in the Neiman Marcus - Bloomingdale's Courtyard.
The event is hosted by Mario Lopez and KOST 103.5 FM's Ellen K, and features a 25-minute live musical show by The Young Americans, a visit from Santa, a magical snowfall, and, of course, the highly-anticipated lighting of the tree.
Visitors can also meet with Santa from 6 to 9:30 p.m. on Friday and Saturday to share holiday wishes and take photos at his custom-designed house on Atrium Lawn. Santa will be there through December 24. For more information on hours and pricing, visit here.
At Fashion Island in Newport Beach. 949.721.2000
Image by Ron Canent
---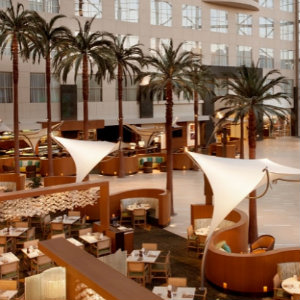 11.17.17
Tusca, the award-winning, signature restaurant at Hyatt Regency Orange County, is offering a three-course decadent Thanksgiving dinner from 6 p.m. - Midnight on Thursday, Nov. 23.. The "Fall into Flavor" Thanksgiving dinner accommodates families on a budget without sacrificing flavor and is priced at $25 per adult (plus tax and gratuity) for the full three-course menu while kids 7 - 12 receive 50% off with a paying adult and Kids 6 and under dine free with a paying adult There is also the option to purchase only the main dish second course at $18 per adult. Complimentary valet parking is available for three hours with validation from TusCA. For reservations, call 714.740.6047, email alica-outlets@hyatt.com or visit orangecounty.regency.hyatt.com.
The Hyatt Regency Orange County's "Fall into Flavor" Thanksgiving Dinner menu is comprised of a three-course compilation of traditional and modern favorites. First Course: Flavorsome Appetizers Butternut Bisque, Cranberry Crème Fraîche, Crispy Sage; or Spinach and Radicchio Salad with Granny Smith Apple, Candied Pecan, Dried Cranberry, Pomegranate Vinaigrette.
The second Course is Satiating Protein, and Enticing Starches---Maple - Brined Turkey, Honey - Glazed Ham, Whipped Red Potato, Sausage and Apple Focaccia Stuffing served with Mandarin - Cranberry Sauce and Gravy (Dark Meat Upon Request).
The third Course is Sweet Treats--Traditional Pumpkin Pie, Vanilla Whip Cream; or Grandma's Apple Pie A La Mode with Vanilla Ice Cream.
11999 Harbor Blvd. in Garden Grove.
---
More Greer