Greer's Blog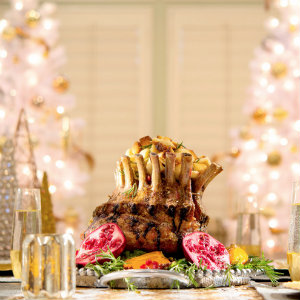 12.13.18
Need some holiday menu inspiration? The Butchery in Crystal Cove is hosting a special event with KFI Fork Report's Neil Saavedra on Saturday, December 15 from 1 p.m.-5 p.m.!
Chefs Pascal Olhats and Linda Johnsen will demo some grilled holiday appetizers and entrees with ingredients from The Butchery, and My Delight Cupcakery will sample some of their sweet holiday treats. Guests who pre-order their holiday roasts during the event will receive $15 off, along with free nationwide shipping on The Butchery's Holiday Boxes to share the gift of quality meats with family and friends!
8058 E Pacific Coast Highway in Newport Coast. 949.715.3383
---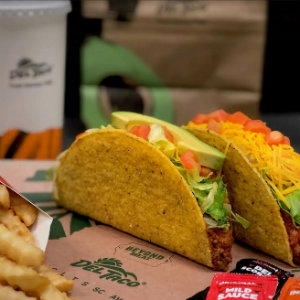 12.12.18
Del Taco, the first Mexican fast food chain to offer Beyond Meat's plant-based protein option, will be testing Beyond Tacos starting Thursday, Dec. 13---made with Del Taco's seasoned Beyond Meat recipe – at 16 locations in San Diego, and five in Los Angeles, Orange, Riverside, and San Bernardino counties.
In Orange County, the first location to offer Beyond Meat options is at 23781 El Toro Road in Lake Forest.
"With a growing demand for vegan and vegetarian options among our guests, we saw an opportunity within the space to partner with Beyond Meat to develop a proprietary blend of seasoned, 100 percent plant-based meat," said John Cappasola, President and Chief Executive Officer of Del Taco. "After receiving overwhelmingly positive feedback from fans during our pilot test in Los Angeles, it only made sense to introduce our Beyond Tacos to a larger SoCal community."
Guests in the test cities can now try one of the brand's new Beyond Tacos which offer the same amount of protein and flavor as seasoned beef but are made with 100 percent plant-based protein. Beyond Meat is also being offered as a substitute for any protein in existing Del Taco menu items, such as burritos, nachos, and fries.
Beyond Avocado Taco (vegan): Seasoned Beyond Meat plant-based crumbles, hand-sliced avocado, crisp lettuce and fresh diced tomatoes in a crunchy shell.
Beyond Taco (vegetarian): Seasoned Beyond Meat plant-based crumbles, hand-grated cheddar cheese, crisp lettuce and fresh diced tomatoes in a crunchy shell.
To learn more about Del Taco's Beyond Meat test, and to find a list of participating locations, please visit www.deltaco.com/beyond.
---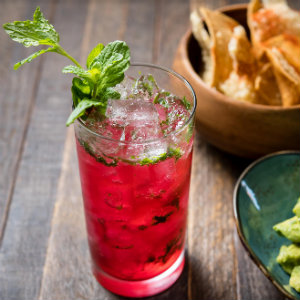 12.12.18
Descanso, known for its unique "Plancha Dining" Mexican experience, now offers a weekday Happy Hour, Monday through Friday from 3 to 6 p.m. The Happy Hour menu focuses on beer, wine and craft cocktails, as well as street-inspired Classic Central Mexican dishes. Guests can opt for dishes like Elote Asado made with fresh grilled sweet white corn, or choose from six taco options, all served on Descanso's signature two-tone Blue and White Masa Tortillas.

bebidas
Draft Beers $5, Bottled Beers $4, House Wine $5
El Descanso Margarita – Cuervo Tradicional Silver Tequila, Agave, Lime, Orange $7
Cucumber+Salt Margarita – Cucumber-infused El Tesoro Silver Tequila, Cilantro Syrup, Limes, Smoked Black Sea Salt $8
El Toro – Tanteo Jalapeno Tequila, Lime, Ginger Beer, Bitters $7
Hibiscus Smash – Tito's Vodka, Jamaica Flower Syrup, Mint, Lime $8

aperitivos
Chips, Chicharrones y Salsa – Fresh Tortilla Chips, Chicharrones, Salsa Frita and Salsa $2
Choriqueso Verde – Green Chorizo, Poblano Suiza, Tres Quesos and Flour Tortillas $7
Nachos – Fresh Tortilla Chips, Poblano Suiza, Tres Quesos, Refried Pinto Beans and Pico de Gallo. Add Chicken (2) or Steak (3).
Huarache de Nopales – Nopales, Blue Corn Masa, Refried Pinto Beans, Queso Fresco and Salsa Verde $4
Elote Asado – Grilled Sweet White Corn, Chile Morita Aioli, Cotija and Lime $5
Costras de Hongos – Fresh Corn Tortillas, Wild Mushrooms, Tres Quesos, Salsa Frita and Epazote $6

tacos
Steak $4, Carnitas $4, Al Pastor $3, Chile Relleno 3, Chicken $2.

Happy Hour is offered Monday through Friday from 3 p.m. to 6 p.m. for dine-in only in the bar area, outdoor patio, and main dining room of the restaurant. For more information, please visit descansorestaurant.com.
1555 Adams Ave #103, Costa Mesa.
---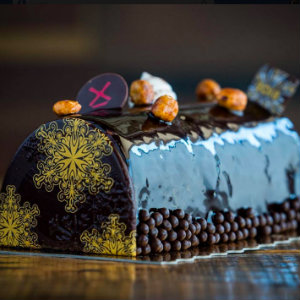 12.11.18
Named one of the best holiday markets in the US by Food & Wine, Moulin's Newport Beach patisserie transformed into a Parisian holiday market through December. The walls boast fine epicurean items sourced directly from France as the pastry case is filled with gilded pastries including large-format St. Honoré and Sesame-Fig Tarts, as well as artisan foie gras with Jurançon.
A curated wine selection offers everything from robust, vintage Burgundies to a Nebuchadnezzar of Taittinger's Brut Reserve. The patisserie is also stocked with beautiful holiday baskets ($49 – $259) of all sizes filled with everything a Francophile could ever dream of.
Open 7 a.m. to 7 p.m., Monday through Thursday; 7 a.m. to 8 p.m. Friday and Saturday; 8 a.m. to 3 p.m. Sunday.
1000 Bristol St N St. 10, Newport Beach. 949.474.0920.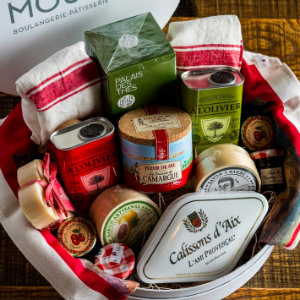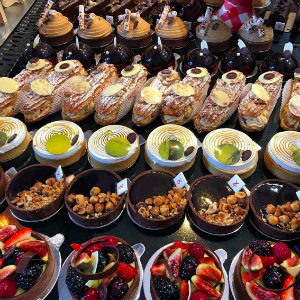 ---
More Greer