Greer's Blog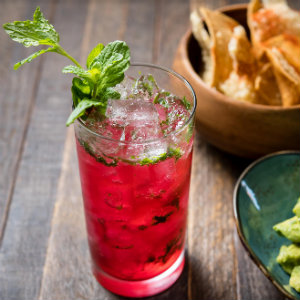 12.12.18
Descanso, known for its unique "Plancha Dining" Mexican experience, now offers a weekday Happy Hour, Monday through Friday from 3 to 6 p.m. The Happy Hour menu focuses on beer, wine and craft cocktails, as well as street-inspired Classic Central Mexican dishes. Guests can opt for dishes like Elote Asado made with fresh grilled sweet white corn, or choose from six taco options, all served on Descanso's signature two-tone Blue and White Masa Tortillas.

bebidas
Draft Beers $5, Bottled Beers $4, House Wine $5
El Descanso Margarita – Cuervo Tradicional Silver Tequila, Agave, Lime, Orange $7
Cucumber+Salt Margarita – Cucumber-infused El Tesoro Silver Tequila, Cilantro Syrup, Limes, Smoked Black Sea Salt $8
El Toro – Tanteo Jalapeno Tequila, Lime, Ginger Beer, Bitters $7
Hibiscus Smash – Tito's Vodka, Jamaica Flower Syrup, Mint, Lime $8

aperitivos
Chips, Chicharrones y Salsa – Fresh Tortilla Chips, Chicharrones, Salsa Frita and Salsa $2
Choriqueso Verde – Green Chorizo, Poblano Suiza, Tres Quesos and Flour Tortillas $7
Nachos – Fresh Tortilla Chips, Poblano Suiza, Tres Quesos, Refried Pinto Beans and Pico de Gallo. Add Chicken (2) or Steak (3).
Huarache de Nopales – Nopales, Blue Corn Masa, Refried Pinto Beans, Queso Fresco and Salsa Verde $4
Elote Asado – Grilled Sweet White Corn, Chile Morita Aioli, Cotija and Lime $5
Costras de Hongos – Fresh Corn Tortillas, Wild Mushrooms, Tres Quesos, Salsa Frita and Epazote $6

tacos
Steak $4, Carnitas $4, Al Pastor $3, Chile Relleno 3, Chicken $2.

Happy Hour is offered Monday through Friday from 3 p.m. to 6 p.m. for dine-in only in the bar area, outdoor patio, and main dining room of the restaurant. For more information, please visit descansorestaurant.com.
1555 Adams Ave #103, Costa Mesa.
---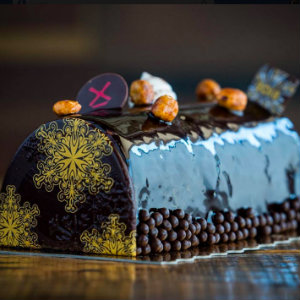 12.11.18
Named one of the best holiday markets in the US by Food & Wine, Moulin's Newport Beach patisserie transformed into a Parisian holiday market through December. The walls boast fine epicurean items sourced directly from France as the pastry case is filled with gilded pastries including large-format St. Honoré and Sesame-Fig Tarts, as well as artisan foie gras with Jurançon.
A curated wine selection offers everything from robust, vintage Burgundies to a Nebuchadnezzar of Taittinger's Brut Reserve. The patisserie is also stocked with beautiful holiday baskets ($49 – $259) of all sizes filled with everything a Francophile could ever dream of.
Open 7 a.m. to 7 p.m., Monday through Thursday; 7 a.m. to 8 p.m. Friday and Saturday; 8 a.m. to 3 p.m. Sunday.
1000 Bristol St N St. 10, Newport Beach. 949.474.0920.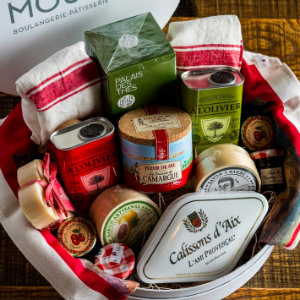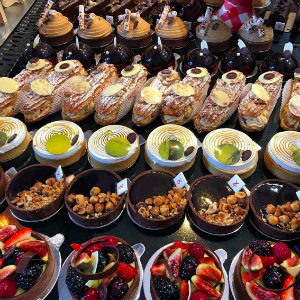 ---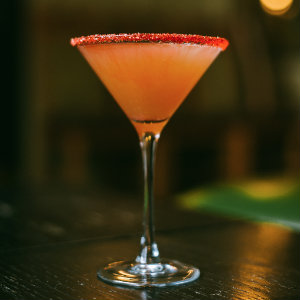 12.11.18
Davio's at the Irvine Towers just launched a Happy Hour menu in the bar, and it's available from 3 - 6 p.m. from Sunday-Fridays.
A variety of menu items and cocktails will be available for $9, with standout options including American Kobe Beef Meatball Sliders, Tuna Crudo with pumpkin seeds and citrus, Oysters Rockefeller, Crab Meat Deviled Eggs, along with cocktails (which will rotate weekly) like the Gold Margarita and Rocks Manhattan, among other options.
The full menu is available here davios.com/irv/events/happy-hour.
Davio's is located at 18420 Von Karman Avenue in Irvine.
---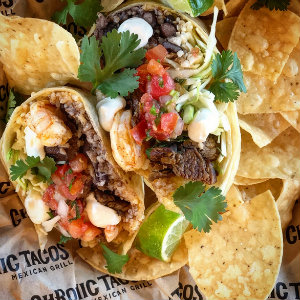 12.10.18
Chronic Tacos just upped its taco game by adding all new Grass-Fed premium Carne Asada to its menu offerings. Now when you're building your own tacos, burritos, and even Chronic Nachos, ask for high-quality Grass-Fed beef. The steak is extra tasty thanks to a secret marinade for 24 hours, then its seared and seasoned on the open grill, allowing for the boldest flavor.
Chronic Tacos serves only the highest quality ingredients and all-natural meats. They offer a wide variety of traditional Mexican items including tacos, burritos, bowl-ritos and more! The menu also features kid's meals and a breakfast menu available all day. Choose from vegetarian and gluten-free options, as well as choices of: Carne Asada, Carnitas, Al Pastor, Pollo Asado and variations of fish or shrimp. There is something for everyone.
At each location, the walls are adorned with original artistic designs inspired by traditional "Day of The Dead" art, creating a unique 'Taco Life' experience.
Chronic Tacos boasts 50 locations across the United States and Canada, as well as a Japan expansion coming soon. In Orange County, you can find Chronic Tacos at these locations:
Angel Stadium of Anaheim at 2000 E Gene Autry Way in Anaheim.
3601 E. Pacific Coast Hwy. in Corona Del Mar. 949.675.2574
1460 Baker St. in Costa Mesa. 714.668.9021
328 11th St. in Huntington Beach. 714.465.9249
7621 Edinger Ave., Unit #106 in Huntington Beach. 714.890.6100
5365 Alton Pkwy, Ste D in Irvine. 949.653.8226
14435 Culver Dr. in Irvine. 949.679.4027
28241 Crown Valley Parkway, Suite C, in Laguna Niguel. 949.273.3184
4533 W. Pacific Coast Hwy. in Newport Beach. 949.642.2458
1120 Irvine Ave. in Newport Beach. 949.645.8226
7520 E Chapman Ave. in Orange. 714.639.9826
415 E Avenida Pico in San Clemente. 949.492.8437
Coming Soon 18503 Suite B Yorba Linda Blvd. in Yorba Linda.

---
More Greer