Greer's Blog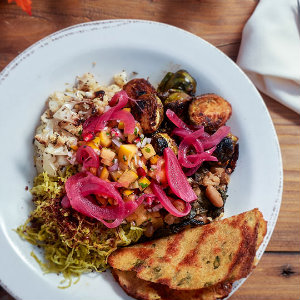 07.31.20
With over 4,000 square feet of al fresco dining, Farmhouse at Roger's Gardens invites you to relax outdoors while responsibly enjoying an award-winning cocktail or a seasonal, sustainably-sourced meal in the beautiful setting of Roger's Gardens.
Their takeout offerings including a Curbside Market with local ingredients and pantry staples, nourishing Family Meals, Taco Tuesday, weekly Farmer's Market Produce Boxes, cocktails and bottles of wine. Their all-day menu is available for both dine-in and takeout.
Curbside Pickup
Curbside pickup is encouraged. Simply pull up to the bar window and a staff member will bring your order to your car.
Family Meals are built for two, but they can customize them
to meet your needs, just let them know at the time you place your order.
The menu may vary depending on availability.
Baked Blue Crab, Parmesan, and Bread Crumb Stuffed Artichoke, $19
preserved Meyer lemon and dill, dijon horseradish, aioli dipping sauce
MENU:
Roast Jidori Chicken $36
roast carrots, cipollini onions, broccoli, peewee potatoes, chicken jus
Lemon Zest, Garlic, and Parsley Crusted Salmon $45
asparagus, sugar snap peas, roast leeks, Tehachapi grain project Sonora grain, balsamic jus, miso creme, chive oil, fennel watermelon radish relish
Grilled Dijon Soy Glazed Pork Tenderloin $50
parmesan potato cakes, braised red cabbage, apple raisin compote, applejack brandy sauce
Killer Meatloaf and Mashed Potatoes $45
roast carrots, green beans and cipollini onions, shiitake mushrooms jus
Garbanzo, Tomato, Curry and Coconut Milk Stew $45 (Vegetarian)
sautéed greens, Cauliflower couscous with leeks, asparagus, sugar snap peas, cipollini and roast shallot vinaigrette, roast satsumaimo sweet potatoes, grilled portobello mushroom, chimichurri, and pickled green mangoes, grilled pita bread
Take and Make Pizza for Kids $6
8 oz pizza dough, 2 oz pizza sauce, 4 oz mozzarella
Add pepperoni or veggies $2
Kale & Little Gem Lettuce Salad or our Farmhouse Market Salad, $5 per person.
2301 San Joaquin Hills Rd. in Corona del Mar.
---
More Greer