Greer's Blog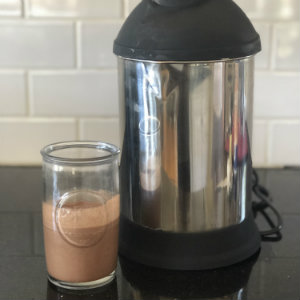 12.02.19
Almond Cow's only sale of the year is on! The Cyber Monday sale ends Monday, Dec. 2 at midnight. The Almond Cow is $35 OFF. You just need to purchase at AlmondCow. We made chocolate oat milk. It was unbelievably easy.
You can use any nut, seed, or grain to make homemade plant-based milk in moments.
Makes 5-6 cups of fresh milk at the touch of a button. No straining. No mess. Easy cleanup.
Ingredients
1 cup of rinsed whole grain oats (also known as groats)
1 ¾ tablespoons of maple syrup for sweetness
¼ teaspoon of salt for freshness
1 teaspoon vanilla extract
½ tablespoon of walnut oil (or avocado oil to avoid nut allergies) for creaminess
2 tablespoons cocoa
Directions
Place the oats, maple syrup, salt, vanilla and oil in the filter basket. Attach the filter basket to the top and twist to close.

Fill the base with water up to the min line. Plug in the machine and press the cow start button. Remove the top of the Almond Cow and set it in the collector cup. Pour the milk into a container and enjoy!
---
More Greer