Greer's Blog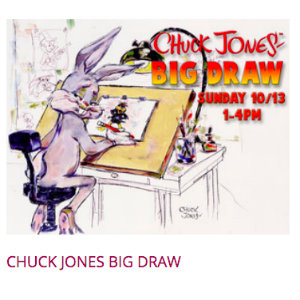 10.09.19
Take part in a FUNdraiser for creativity at the Chuck Jones Center at SOCO + The OC Mix! This fun and impactful event is taking place on Sunday, October 13 from 1 p.m. to 4 p.m. and will benefit the programs of the Chuck Jones Center for Creativity – a nonprofit organization that serves school-age children, senior brain health, and children and young adults on the autism spectrum.
The Chuck Jones Big Draw event will be a space-tacular experience for families and will take place in a carnival-themed atmosphere focused on Outer Space Exploration and Planet X. Children and parents will be able to participate in a variety of different creativity stations throughout the center with the opportunity to create rocket banks, build a spaceship and helmet, and design + create Planet X creatures. Plus, children will even be able to make their very own cartoon using some of Chuck Jones' favorite characters such as Marvin the Martian, Bugs Bunny, Daffy Duck, and 10,000 Martians.
This event is sure to bring out your family's creative side and serves as a great way to spend quality time with loved ones while making a difference in the lives of others. Tickets for the Chuck Jones Big Draw event are $5 and include a "Mix-Your-Own" soft drink bar, fresh popcorn, and a decorate your own brownie station. Tickets can be purchased at hchuckjonescenter.org.
The Chuck Jones Center for Creativity at SOCO + The OC Mix is at 3321 Hyland Ave., Suite A & B, Costa Mesa. 948.386.7504.
---
More Greer