Greer's Blog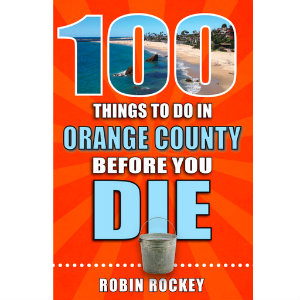 01.22.20
Have you always wanted to know some insider tips on what to do and where to go in Orange County? Now's your chance to meet author Robin Rockey who will be discussing her new book, 100 Things to Do in Orange County Before You Die, at the Costa Mesa Donald Dungan Library in Costa Mesa on Saturday, January 25 from 11 a.m. to 1 p.m.
In 100 Things to Do in Orange County Before You Die, you'll learn tips on how to maximize your time in this Pacific paradise and dodge the overhyped tourist traps.
Whether you're a first-time visitor seeking surf, sun, and sand, or a lifelong local craving a deep dive into the region's rich cultural history, this book will guide you to the best Orange County has to offer. Discover where to capture postcard-worthy photos, fill your shopping bags with dapper duds, and stuff your belly with out-of-this-world eats from incredible restaurants and under-the-radar rooftop bars.
Escape to Laguna Beach's secluded coves, discover Disneyland originals that you won't find at any other park, chase waterfalls in Holy Jim Canyon, and learn where to raise a glass to Seal Beach's infamous Prohibition-era rum runners.
Local author Robin Rockey brings an insider's eye and a SoCal spirit to this indispensable guide. Expertly-crafted itineraries take the guesswork out of planning your day, so you can spend more time exploring or simply lounging by the beach. Your Orange County adventure starts now!
100 Things to Do in Orange County Before You Die is available wherever books are sold at $16.
---
More Greer