Greer's Blog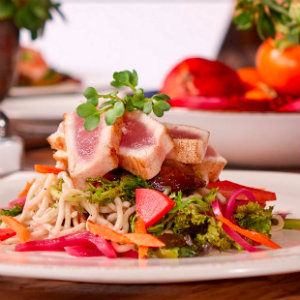 11.26.19
Farmhouse at Roger's Gardens just debuted a new autumn menu created by Executive Chef/owner Rich Mead. It features new dishes highlighting the freshest produce and flavors of the season.. It's a perfect place to dine in Orange County, with spanning views of the beautiful gardens and Chef Mead's renowned farm to fork cuisine.
The full summer menu is also offered in the Farmhouse bar, which features refreshing new cocktails, hand-crafted by Anthony Laborin, head of Cocktail R&D.
Highlights from the new menu include the Farmhouse Market Salad with persimmons, raisins, radish, Persian cucumbers, cherry tomatoes, mixed lettuces, balsamic vinaigrette, pistachios, goat cheese; a Grilled Prime Hanger Steak and Gorgonzola Salad with radish, cherry tomato, shaved fennel, caramelized onion, little gem lettuce, roast shallot vinaigrette, tomato apple roast garlic jam, pickled red onion, caraway pancetta bread crumbs; and the Broccolini, Cauliflower, Tehachapi Grain Project Rye and Roast Shallot Vinaigrette.
There's also a Shrimp and Vegetable Ribbons with butternut squash and carrots, caramelized cauliflower, arugula, raspberry vinaigrette, pureed satsumaimo sweet potato and cauliflower, pomegranate seeds. And a Roast Spaghetti Squash and Three Cheese Gratinswiss chard, caramelized onion and chanterelle mushrooms, cauliflower, roast butternut squash, parmesan, and leek béchamel sauce, mozzarella and fontina cheese
Dessert choices include Pumpkin Cheesecake, Chocolate Spice Sweet Potato Rice Pudding; toasted Almond Cake with roasted persimmon; and a Fig and Apple Tart.
Cocktails to enjoy include the Counterfeit Cocktail: clarified lime juice, water, simple; Clarified Delicata Squash and Rum Blend, Fall Spices; and Milk Washed Angostura Sour.
Open daily for lunch 11:30 a.m. to 2 p.m.; open for dinner 5 p.m. to closing.
2301 San Joaquin Hills Road in Corona Del Mar. 949.640.1415
Photos by Darin Meyer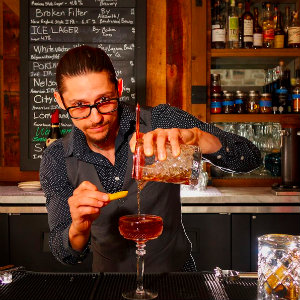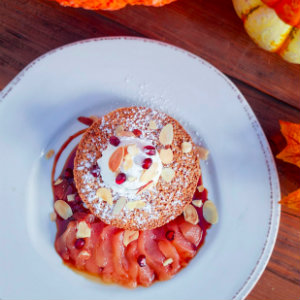 ---
More Greer