Greer's Blog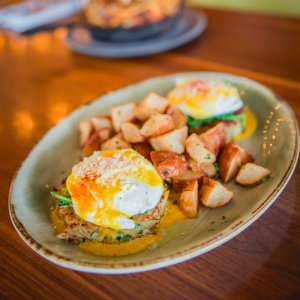 11.19.19
Ready for a taste of fall and drinks of the season? Pasea Hotel & Spa's Tanner's Restaurant just added a new seasonal menu that calls for flannel and a beanie - locals and guests alike can indulge in standout items like the sticky buns - delivering an unexpected twist with pumpkin seed brittle, crunchy candied pecans and topped with a rich, savory cream cheese frosting. Lighter fare, like the sunchoke salad, is full of wild mushrooms, French radish, sunchoke puree, chicory and crisp Asian pear tied together with a pistachio vinaigrette.
Their happy hour got a little more festive with the addition of a PSCB (Pumpkin Spiced Cold Brew) complete with pumpkin-infused whipped cream and whiskey and an autumn harvest punch – where a cranberry shrub, crisp local apples, sour pisco, and full-bodied pear brandy make for a drink worthy of sipping the night away with friends.
Autumn Menu Additions Include:
Breakfast
Cinnamon Apple French Toast $16, Cinnamon Sugar Streusel, Smoked Caramel, Poached Granny Smith Apple, and Chantilly Cream
Crab Cake Benedict $22 Jumbo Lump Crab, Chicory, and Parmesan Hollandaise
Sticky Buns $14 with Pumpkin Seed Brittle, Candied Pecans, and Cream Cheese Frosting
Lunch
Sunchoke Salad $14, Local Sunchokes, Wild Mushroom, French Radish, Sunchoke Puree, Chicory, Asian Pear, and Pistachio Vinaigrette
Fried Rice $20, Cauliflower Rice, Edamame, Carrots, Broccoli, Egg, and Fried Garlic
Duck Carnitas Tacos $18, Duck Confit, Plum Mole, Apple Pico

Dinner
Braised Oxtail $32, a Ripe Plantains, Rice, Roasted Carrots
Chicken Adobo $30, a Soy Braised Chicken, Fingerling Potatoes, with Caramelized Onions

Fall Cocktails $16:
PSCB (Pumpkin Spiced Cold Brew) - Cold Brew, Pumpkin Infused Whipped Cream, Whiskey
La Hoguera – Mezcal, Cacao, Lemon, Nutmeg
Fall Fashioned – Fig infused syrup with local figs and allspice, Rum, Rye whiskey
Autumn Harvest Punch – Cranberry Shrub, Local Apples, Pisco, and Pear Brandy
Tanners is at 21080 Pacific Coast Highway in Huntington Beach.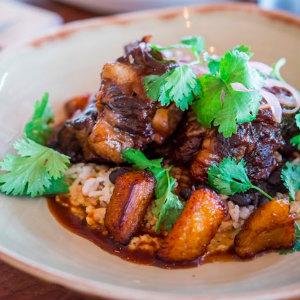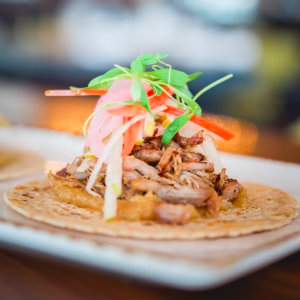 ---
More Greer