Greer's Blog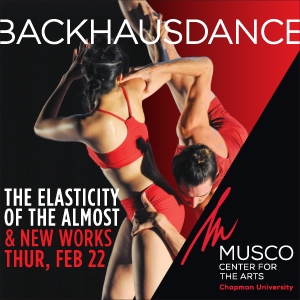 02.13.18
Musco Center for the Arts at Chapman University and Backhausdance present The Elasticity of the Almost & Other Works on February 22 at 7:30 p.m. Ferociously moving among a shifting sea of red balls, The Elasticity of the Almost creates worlds of athletic, fluid, contemporary movement artfully crafted and infused with a sense of humor and theatricality. This piece and three incredible premieres highlight an evening of powerful dance by Orange County's own Jennifer Backhaus and her company.
Formed in 2003, Backhausdance is a powerful and entertaining voice in the dance world. The company's repertory offers an eclectic and dynamic vocabulary with a wonderful sense of fluidity and strength.
Tickets for Feb. 22 are on-sale now for $27-47 and may be purchased through the Musco Center online at muscocenter.org or by calling the box office at 844-OC-MUSCO (844-626-8726). All print-at-home tickets include a no-cost parking pass.
Musco Center for the Arts is located on the campus of Chapman University at 415 North Glassell in Orange.
---
More Greer