Greer's Blog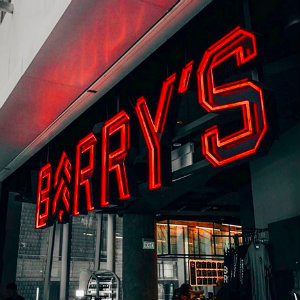 01.02.20
Barry's, the original boutique lifestyle brand that innovated group fitness by creating an immersive and transformative full-body workout experience, just opened its first Long Beach studio.
The expansive space is custom-designed with standout features, including its iconic Red Room, which can have up to 45 students in each class, as well its signature Fuel Bar, serving up Barry's own healthy recipes and customizable smoothies and snacks, designed to energize students and guests, and help them reach their goals.
The Long Beach location also features an exclusive clothing boutique, carrying Barry's collaborations with high-end workout and athleisure apparel brands, including Lululemon, Nike and more. Additional amenities include separate men's and women's locker rooms and showers stocked with luxury skin and bath products, including Oribe and Dyson.
The workout at Barry's is fully immersive and efficient, combining cardio and strength training workouts into a single 50-minute class, making it a one-stop-shop for training. Using a combination of treadmill routines, free weights, resistance bands, and body weight exercises, Barry's was created so that participants don't need to try to pack in multiple workouts into an already overscheduled week. Each session is led by an expert fitness instructor, whose positive encouragement and knowledgeable background aids in the success of each individual.
Barry's Long Beach offers special rates for Cal State Long Beach and Long Beach City College students, as well as class packages and memberships. Private group classes can also be created for special events. For more information, pop into the studio, which is located near Naples Island and Belmont Shores, visit barrysbootcamp.com/studio/long-beach, or email longbeach@barrysbootcamp.com.
6480 East Pacific Coast Highway, near 2nd Street, in Long Beach.
---
More Greer