Greer's Blog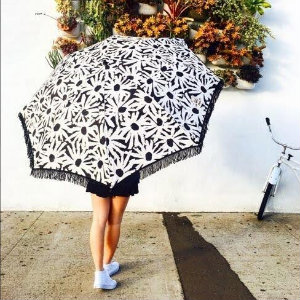 05.17.17
Just in time for your summer beach days, you need to know about this great local beach umbrella company. Local owner/designer Shelley Arends recently created the boutique brand Beach Brella Laguna Beach, to share her love of the SoCal beach lifestyle – surfing, relaxing, celebrating, soaking in the views, and always making time to put her toes in the sand.
The brand's mantra: "MADE IN SHADE" sets the tone for these 60-inch diameter brellas that will put a smile on your face and are easy to spot on the beach.. Each brella is handmade and hand-sewn, fashionably designed and colorful with boho-chic fringe. They are 100% UV protective, fade resistant 100% sueded micro fiber polyester with a DWR water repellent coating. They come in a fashionable beachy, carrying case with sturdy shoulder strap. They are lightweight and easy to carry, total weight with carrying case is 5lbs.
You can find them in local shops such as Diane's Beachwear in Huntington Beach; The Shop in Laguna Beach; Hobie Surf Shop in Dana Point, San Clemente, Laguna Beach, and Corona del Mar; Millie's/Coastal Accents in Dana Point; and Love Lola in Newport Beach. You can also find them on Amazon and online at beachbrella.com.
---
More Greer