Greer's Blog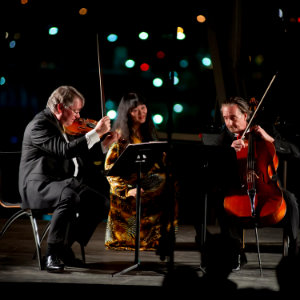 04.06.17
Beethoven's beautiful works will the theme of the show, when pianist Wu Han, violinist Philip Setzer and cellist David Finckel return to Segerstrom Center for the Arts on Saturday, April 8 in Samueli Theater for a special two-concert series performing the maestro's complete six piano trios. The program follows Beethoven's life and career chronologically, allowing listeners to explore the composer's emotional and musical evolution.
The first concert takes place at 4 p.m., and will include: Trio in E-flat Major, Opus 1 No. 1; Trio in G Major, Opus 1 No. 2 and Trio in C minor, Opus 1 No. 3. The second concert takes place at 8 p.m., and will include: Trio in D Major, Opus 70, No. 1 "Ghost;" Trio in E-flat Major, Opus 70, No. 2; Trio in B-flat Major, Opus 97 "Archduke."
Single tickets for each concert start at $29 and are available now online at SCFTA.org, at the Box Office at 600 Town Center Drive in Costa Mesa or by calling 714.556.2787. There is a 25% discount for tickets at the $79 level when purchasing tickets to both concerts. Ticket holders are invited to attend the Preview Talk led by Dr. Byron Adams held at 3:30 p.m. for the 4 p.m. performance and 7:30 p.m. for the 8 p.m. performance.
---
More Greer