Greer's Blog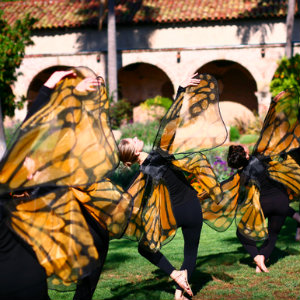 02.05.20
From Monarch butterflies to California poppies, nature comes alive in Bloom performances at Saddleback College in Mission Viejo on Wednesday, Feb. 5 through Saturday, Feb. 8! Featuring a cast of 16 student dancers, Bloom utilizes movement, projections and text to bring the outdoors into the theatre. The performance also includes two short talks on ecology themes, presented by the Environment Studies and Horticulture departments, and the nearby Art Gallery will be exhibiting student work, so come early to view Nature-themed art from some of the Photography and Studio Art classes!

Includes short ecology talks given by:
Morgan Barrows, Chair of Environmental Studies
Robert Farnsworth, Co-Chair of Horticulture & Landscape Design

Artistic Director & Choreographer: Deidre Cavazzi
Learn more about studying Dance at Saddleback College.
Wednesday, February 5, 7:30 p.m.
Thursday, February 6, 7:30 p.m.
Friday, February 7, 7:30 p.m.
Saturday, February 8, 7:30 p.m.
$10 Adult; $7 Senior; $5 Student ($10 Door Price) FREE for high school students with school ID!
BUY TICKETS
$10 Adult, $7 Senior, $5 Student, $5 Child 12 & under ($10 Door Price)
Saddleback College campus, located at 28000 Marguerite Parkway Mission Viejo.

---
More Greer