Greer's Blog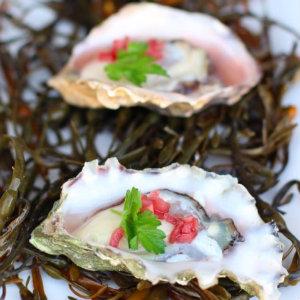 02.06.17
Each February, Bluewater's "Foods of Love" celebration tests the aphrodisiacal qualities of oysters and Champagne. At Bluewater Grill's two locations in OC: Newport Beach and Tustin, it's become so popular that Executive Chef Jason Mazur has expanded it into a special three-course menu served as a tasting event and throughout the month.
On Tuesday, Feb. 7 at Bluewater Grill you can start with Michelle Brut by Domaine Ste. Michelle or a Champagne Cocktail and then you can create your own menu of love-inducing favorites.
Mazur's starter choices include Oysters on the Half Shell with Shallot Mignonette, Panko Fried Oysters or Baby Green Salad with Sugared Squash, which is followed by a choice of Steak with Crab Risotto or Pan-Seared Mahi Mahi. For dessert, you choose between Salted Butterscotch Pot de Crème or Chocolate Lava Cake with Raspberry Coulis. Those opting for the Steak with Crab Risotto can make it a Valentine's Surf & Turf by adding an 11-oz. Lobster Tail for an additional $30.
"Bluewater's Foods of Love" is $35 per person, and reservations are required for Feb. 7 seatings starting at 6:30 p.m.
Seafood fans unable to attend the special Feb. 7 celebrations can order the three-course menu throughout February for $40 with champagne or $35 without.
Bluewater Grill Newport Beach in Cannery Village is at 620 Lido Park Drive in Newport Beach. 949.675.3474.
Bluewater Grill Tustin at The District is at 2409 Park Avenue in Tustin. 714.258.3474.
---
More Greer