Greer's Blog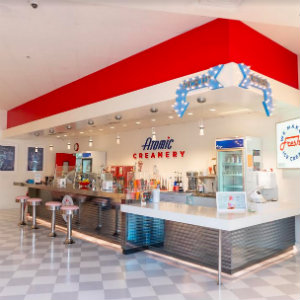 10.31.19
Atomic Creamery at Fashion Island is celebrating the season with brand new fall flavors as well as a BYOC (Bring-Your-Own-Candy) special. From Friday, November 1 - Sunday November 3, grab that leftover Halloween candy and they'll mix it into one of their nostalgic flavors of your choice! It's an opportunity to create the ice cream of your wildest dreams!
Plus, they'll be serving up their new, wonderfully seasonal 'sweater-weather' flavors such as Pumpkin Custard, Pomegranate, Pecan Turtle, and even Butter Beer!
And, on Sunday, November 3, Atomic Creamery will be giving away 100 free scoops of ice cream; snag a freebie scoop of one of their simple flavors and BYO-Candy, or try one of their fantastic fall flavors (while supplies last)! Starting at 1 p.m., the first 50 guests in line can each score one (1) complimentary serving of Atomic Creamery ice cream.
This sweet deal will conclude at 5 p.m., or once all 50 scoops are claimed, so arriving closer to 1 p.m. is encouraged. No matter which flavor you choose, at Atomic Creamery each creation is made fresh to order and prepared with premium, all-organic ice cream base, and liquid nitrogen, making it ice cream you won't forget!
Don't want to wait in line to claim your free scoop? 50 additional scoops will be awarded online! Just follow Atomic Creamery on Instagram @atomiccreamery and enter to win by tagging a friend in the comments!
Whoever tags the most friends wins one free scoop of Atomic Creamery's limited Fall Flavors OR a #BYOCandy Creation on Sunday, November 3, 2019! *Multiple entries allowed, just tag a different friend each time! If chosen, winners can claim their free ice cream anytime between 2 p.m – 4 p.m. on November 3, 2019.
*Please note that this prize may ONLY be claimed on Sunday, November 3.
*Must be 18 years or older to claim prize at Atomic Creamery's Fashion Island location.
*Single cup scoops will be awarded during these giveaways; upgrades are available at an additional cost.
Atomic Creamery, Fashion Island is at 549 Newport Center Drive in Newport Beach.
---
More Greer