Greer's Blog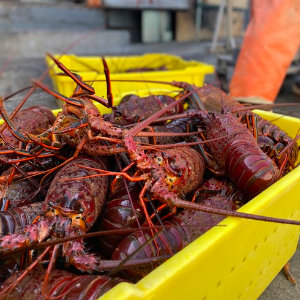 10.20.20
California Spiny Lobsters are here and The Harbor Grill and Jon's Fish Market at Dana Point Harbor have delicious lobster dishes available all season long!
The Harbor Grill has a special section on its menu called "The Lobster Trap," filled with all things lobster. Dishes include the Hot Butter Poached Lobster Roll served on a toasted roll, Lobster Louie Salad, Lobster Ravioli stuffed with Maine lobster meat and served in homemade basil cream sauce, Australian Lobster Tail, and 1.5 pounds of fresh and locally caught red spiny lobster. For full descriptions of these menu items visit harborgrill.com/menus.
Jon's Fish Market, known for sustainably-caught, local seafood is also serving up local spiny lobsters for $24 a pound. Enjoy a whole or half grilled lobster dinner with butter and two side choices, caught fresh in Dana Point each morning.
The Harbor Grill and Jon's Fish Market are both open for patio dining and takeout. We would love for you to include these two restaurants in any roundups or feature stories you may be writing surrounding lobster season
Harbor Grill is at 34499 Golden Lantern in Dana Point. 949.240.1416.
34665 Street of the, Golden Lantern, Dana Point. 949.496.2807.
---
More Greer