Greer's Blog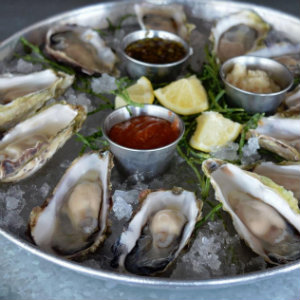 08.04.20
Seafood lovers have something to celebrate on National Oyster Day when Raw Bar by Slapfish offers $1 oysters on Wednesday, August 5, from 12 to 9 p.m. Guests who purchase one dozen of the bivalve mollusks will also receive a complimentary glass of Champagne to enjoy on their spacious outdoor patio.
Raw Bar will serve a variety of east coast and west coast oysters on the half shell with shallot vinegar, grated horseradish, and cocktail sauce. Widely known as an aphrodisiac, oysters are also high in protein, zinc and B12.
The Surf City restaurant also recently launched a summer special of fresh Maine lobster and unveiled a new cocktail menu. The 1.25 lb. whole poached Maine lobster is available chilled and stuffed with more lobster and served with a split top butter roll or served hot with Raw Bar's house-made coleslaw, fries, and a buttered split top roll. Both chilled and hot presentations are $25 and will be available through the end of summer or while supplies last.
In addition to a variety of craft beer available, Raw Bar's new cocktail menu includes refreshing favorites such as a Cucumber Mule (cucumber, lime, vodka, and ginger beer) for $8; Passion on the Beach (passionfruit, grapefruit and vodka) for $8; Mango Sunset (mango and other tropical flavors, vodka) for $7; Strawberry Lemonade (vodka, strawberry, and lemonade) for $8; Pineapple Jalapeno Margarita (fresh pineapple, jalapeno and tequila) for $8; Micheladas with a Mexican lager and made extra spicy or not, for $7; and a Bloody Mary with a bold and savory house-made mix, made fresh to order for $8. Traditional and fruit Mimosas are also available on Saturday and Sunday mornings for $5.
Raw Bar by Slapfish is in Newland Center at 19694 Beach Boulevard in Huntington Beach. 714.587.9222.
---
More Greer